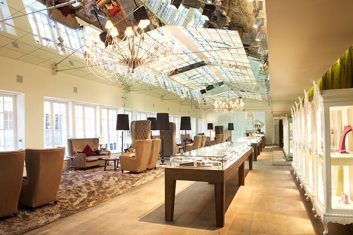 Looking forward to joining fellow exhibitors Mood Flowers, Special Days Cakes  and The Blytheswood Hotel Spa among others in the spectacular Thrill Room on the first floor at ROX Jewellers in the Argyll Arcade. ROX are the multi award winning brand who are first for style and innovation. Choosing your ring in such luxurious trend setting  surroundings makes the occasion even more special.
Two models will be wearing our dresses with matching jewellery and I will be on hand to discuss your ideas for your perfect wedding dress with you.  The exhibition is small, friendly and luxurious and all brides-to-be are welcome to come along with your fiancee, mum or friends.  Thrill Room Bridal Afternoon open 12 noon – 4pm Sunday 29th January.
Look forward to seeing you there.
Joyce