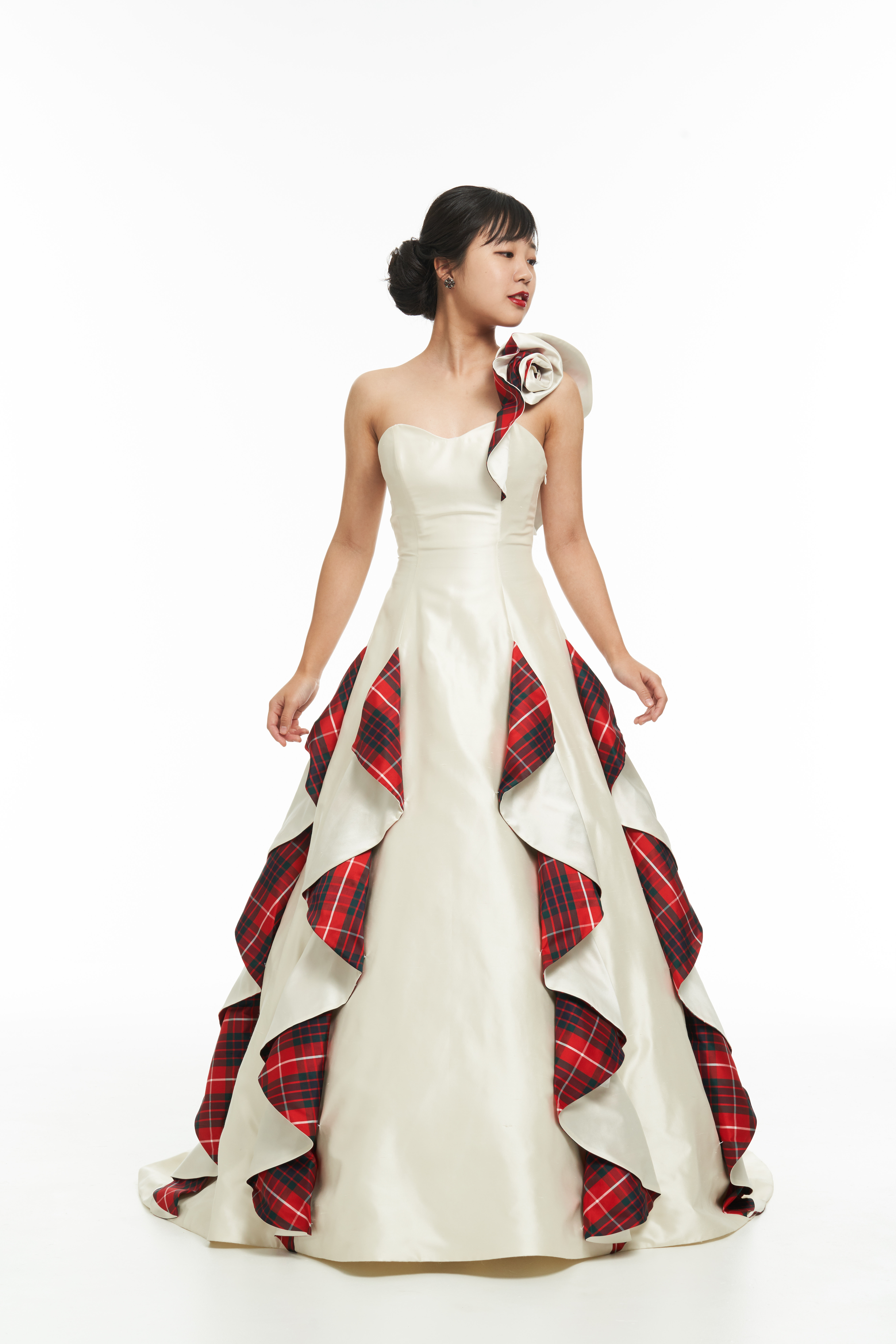 Major Tartan Exhibition in Japan
We were contacted a year ago by a translator working on behalf of the Kobe Shimbun newspaper in Japan. They had looked at our website and tartan designs and decided to include one of our tartan themed wedding dresses and also a tartan evening dress in the exhibition.
A visit to our showroom was arranged in November by Japanese delegation comprising of a lovely lady representing the newspaper, the exhibition designer and curators of the art galleries where the exhibition will tour 5 major cities over two years.
They commissioned two dresses that would be designed especially for the exhibition that would represent Joyce Young. Firstly sketches were prepared which were sent to Japan and the exhibition committee chose two designs to go forward and be made up.
Along with the dresses on display will be a slide show of our brides who have been married in Scotland wearing tartan. I felt it was important that the visitors to the exhibition see the wedding dresses in context of a true Scottish wedding and the best way is to show real life weddings. In these images the Japanese visitors not only see the grooms in kilts and the pipers and the amazing Scottish venues but also get a glimpse of our glorious landscapes.
I am very much hoping that as well as learning all about tartan at the exhibition Japanese engaged couples will be inspired to consider Scotland – a romantic far off land –as the location for their weddings.
Following on from this idea I was inspired to create a new micro site with the unique focus being on weddings in Scotland for couples coming from overseas but also for Scottish couples who love all things tartan.
Here we will link to carefully chosen 5 star Scottish venues and suppliers and people who will help to make a Scottish wedding truly unique.
Watch this space the new microsite will launch soon.
Model               Yura Zaiki   Concert pianist  Royal Conservatoire of Scotland https://www.rcs.ac.uk/
Photographer  MartinMcCready @http://www.upfrontphotography.co.uk/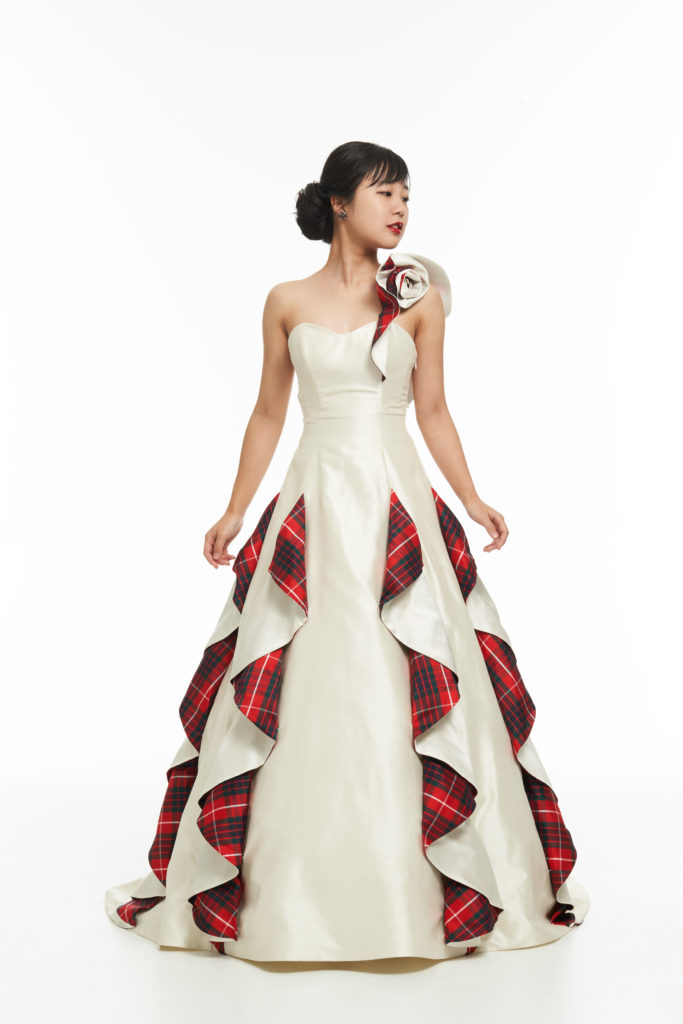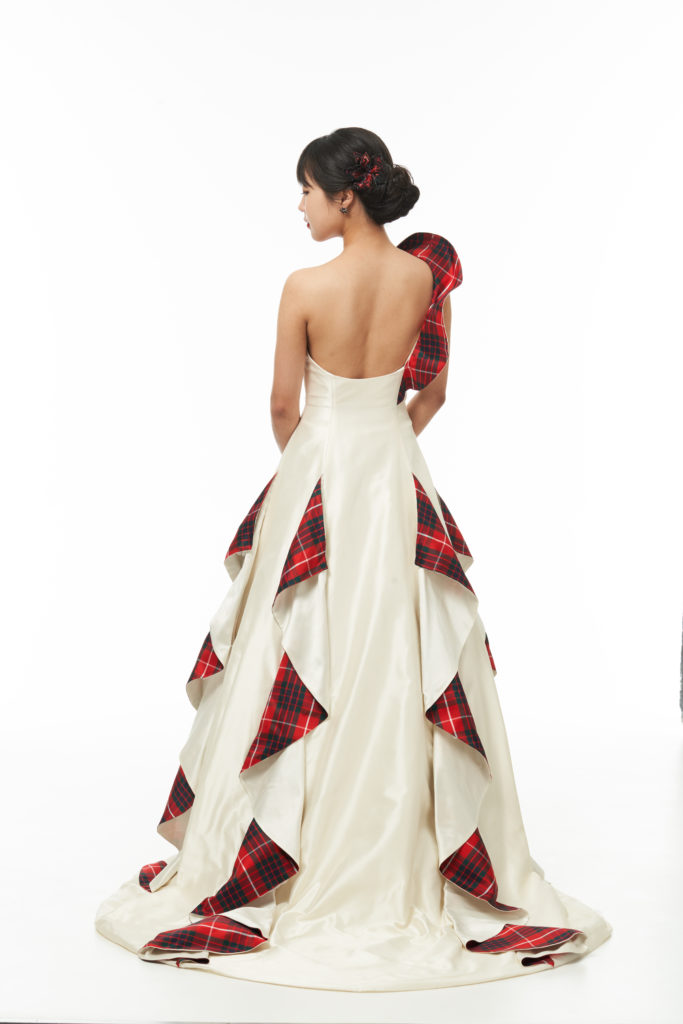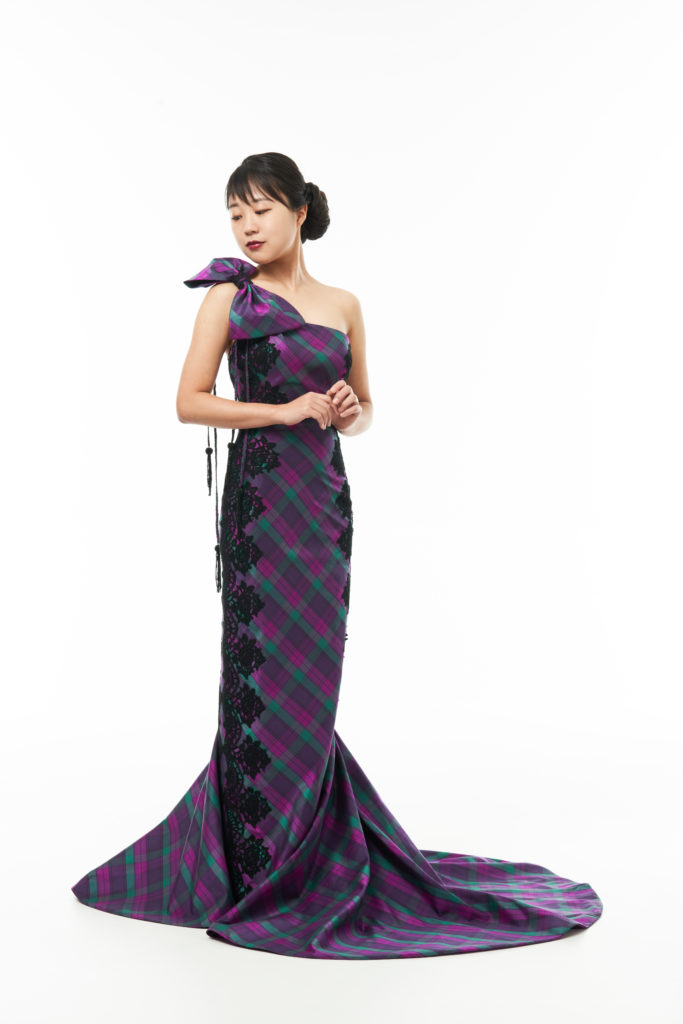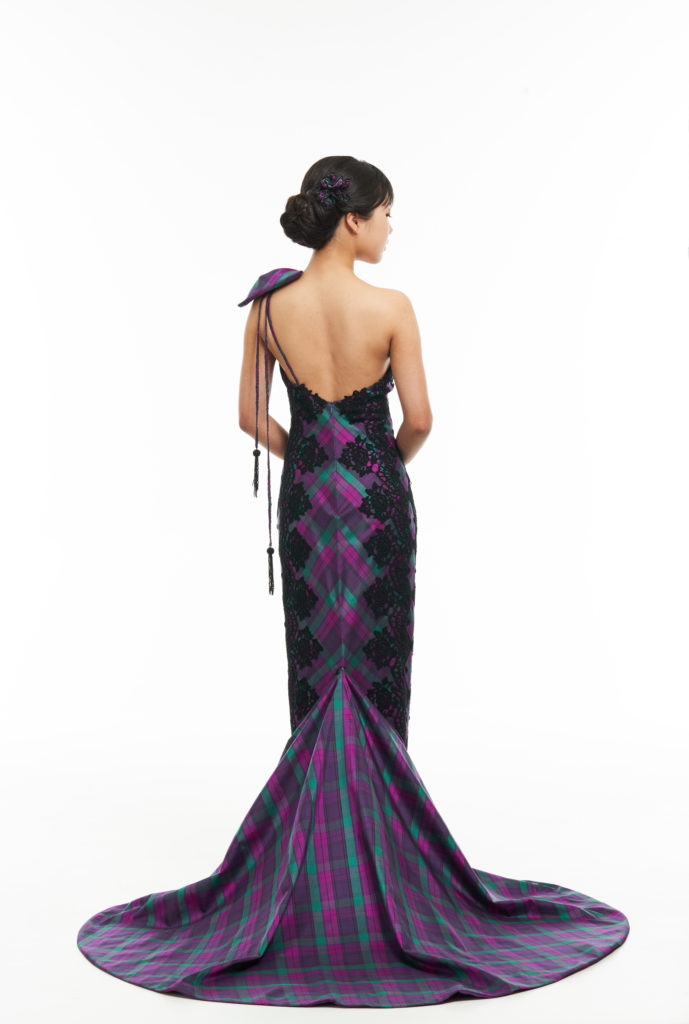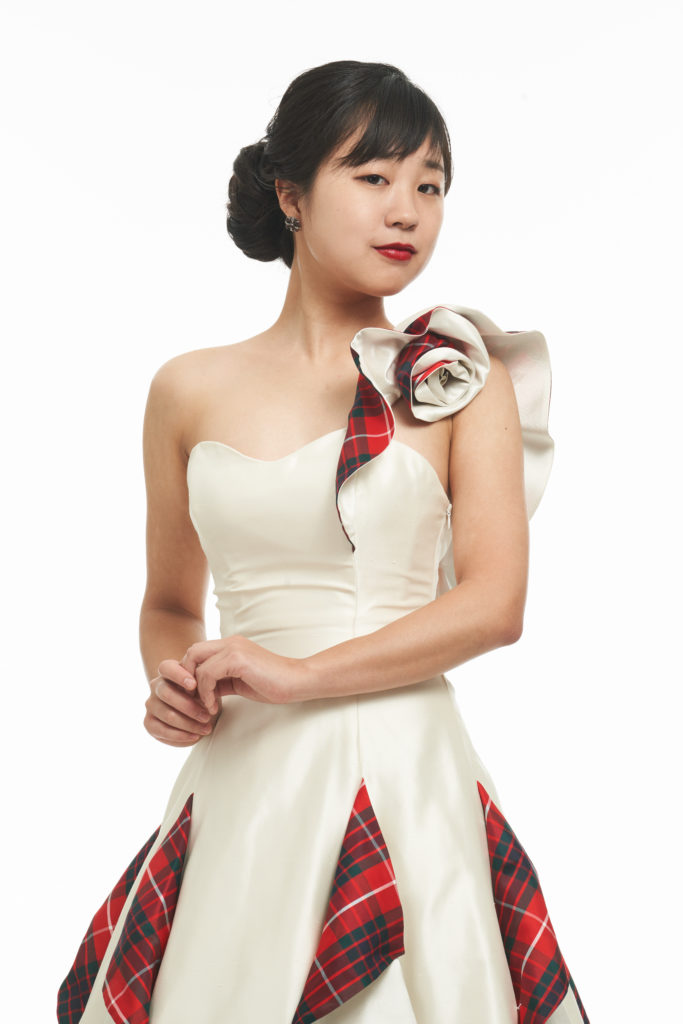 DESIGNER PROFILE IN EXHIBITION CATALOGUE
JOYCE YOUNG OBE – SCOTTISH DESIGNER
Award winning Scottish Designer Joyce Young graduated with a BA Hons from the prestigious Glasgow School of Art in 1975 . Her career spans over 4 decades . Her designs are sold from her elegant salons in Glasgow and London where her UK and International clients come to see her couture wedding and special occasion designs. The dresses are crafted in her own purpose built studio in Glasgow. Joyce's signature creations are classic shapes in luxurious fabrics with colour and detail giving each garment its very own unique personalty.
Joyce grew up on the west coast of Scotland where the scenery and soft muted colours of the mountains, sea and sky made a big influence on her love of colour and texture. She is passionate about her homeland and believes her preference for soft flowing shapes evolves from the beautiful surroundings of the rolling green hills and wide cloudy skies.
Tartan started to play an important part in Joyce's designs in 1993 when a friend gave her a Montgomery tartan scarf to make into a garment. Her friend's tartan outfit won lots of admiration when she attended a function with her husband, he wore his Montgomery kilt and she wore her matching tartan evening outfit. This inspired the idea to design a wedding collection where the bride coordinates with the groom's kilt and all the colours of the wedding party tone with the groom's tartan. The majority of Scottish grooms get married wearing a kilt. This is a very strong and colourful look and Joyce feels that the bride should also have a strong presence that balances the groom. Scottish people are very proud of their heritage and enjoy wearing their family or generic tartan wherever they are in the world.
Joyce feels that Scottish men look resplendent in Highland Dress but that apart from old fashioned looking kilts and blouses that there weren't many interesting tartan outfits for modern women to wear. She set about designing in tartan and calls the collection Tartan Spirit which embodies the tradition of Scottish heritage in an up to date concept which brings tartan for women into the 21st Century . Her tartan designs have taken her all over the world notably to Fashion Week in Los Angeles and Dressed to Kilt in New York .
Always the artist/designer Joyce is at her happiest surrounded by fabrics in her design studio in Glasgow working on the mannequin creating new ideas which put different tartans together. She feels some tartans are too masculine for her designs which led her to design 2 exclusive tartans which are called Tartan Spirit and By Storm . Tartan usually has a back story explaining what each colour represents . Joyce could say that the purple is for the heather on the hills , the green is for the fir trees, the dark blue is for the deep Scottish lochs and the fuchsia is for the wild mountain flowers. In reality they are "colours Joyce likes " however the reason she likes these colours is steeped in her Scottish heritage .
In the 2012 Queen's New Year Honours list Joyce was delighted and honoured to be awarded an OBE (Officer of the British Empire) for her services to the Textile Industry.
Joyce is very excited to have the opportunity to show her tartan designs to the beautiful ladies of Japan and hopes that the idea of a Tartan Wedding in this romantic far off land will inspire many Japanese couples to come over and experience Scotland for themselves.
The exhibition launched on Sat 15th Sept 2018 in Kobe Fashion Museum
Here is a link to the museaum's website . The introduction features our wedding dress
Joyce Young OBE
Designer

ジョイス・ヤング大英帝国四等勲爵士 デザイナー

ジョイス・ヤングは、1975年グラスゴー美術学校を卒業したのち、40年以上に及ぶキャリアをデザイナーと して活動している。ヤングの作品はグラスゴーとロンドンにあるサロンで販売されており、英国内のみならず 海外からも評価を得ている。その特徴は最高級の布地を用い、色彩と装飾を施したクラシックな造型である。

ヤングはスコットランドの西岸で育った。柔らかく落ち着いた色彩の山々、海、空が、ヤングの色や布地へ の愛情に大きな影響を与えている。ヤングのデザインに表れる柔らかで流麗な形状は、起伏に富む丘や、広 がる曇天の空から着想を得たものである。 ヤングの作品の中でタータンが重要な役割を果たすきっかけとなったのは、1993年に友人の服をタータ ンで仕立てたことにさかのぼる。友人の夫がパーティで身につけた「モンゴメリー」(p.69)のキルトと、そ

76
ジョイス・ヤング ウェディングドレス 2018年