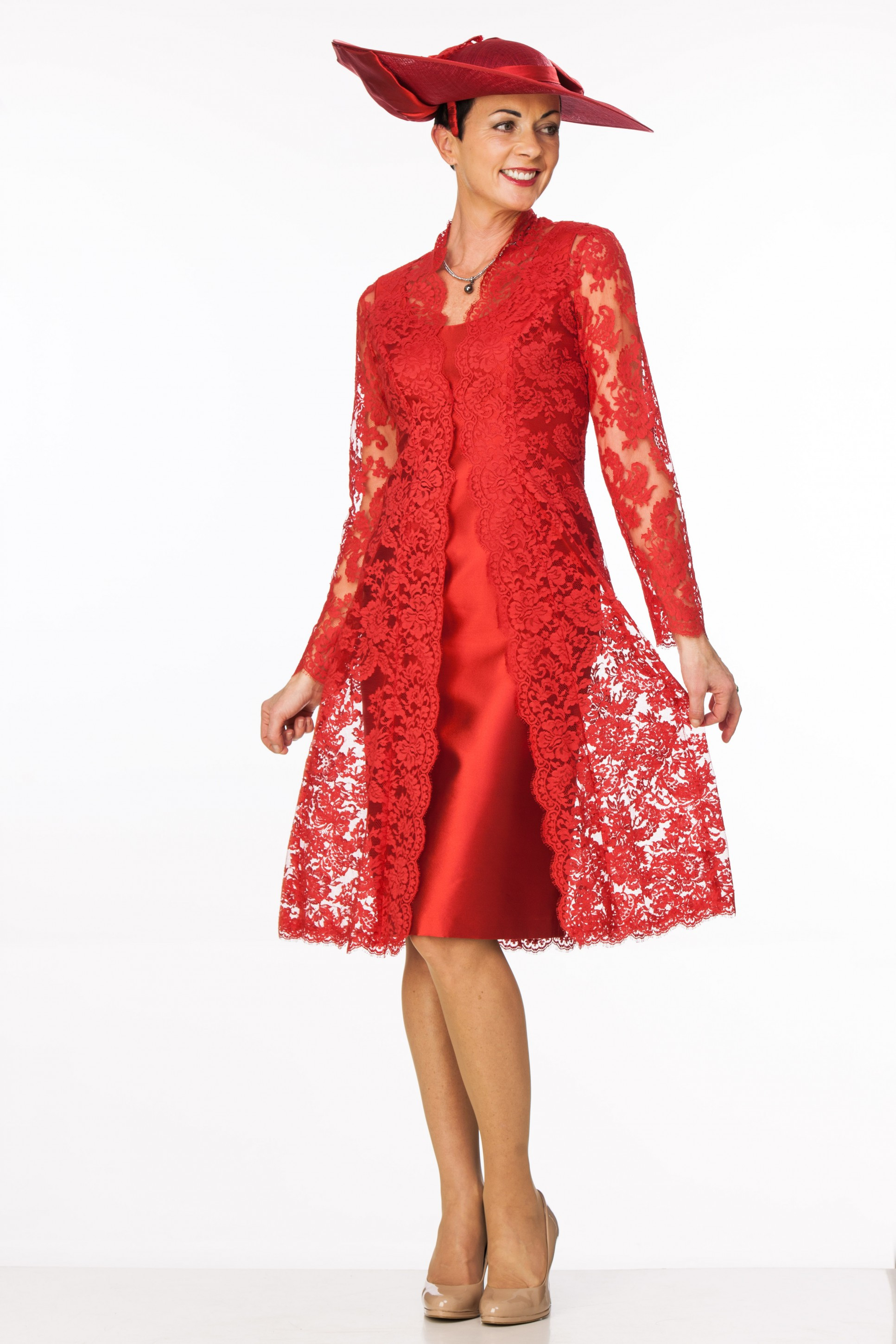 Are your social media pages peppered with websites offering amazing deals on beautiful looking dresses and outfits ? Too good to ignore bargains that show images of stunning models in expensive looking clothes at knock down prices. If it looks to good to be true guess what ? It's very likely it IS too good to be true. Here is our story of just one of the many websites out there that are illegally copying off images from designer websites and passing them off as there own and sending out very cheap copies …..and getting away with it.
Having noticed our images appearing on several scam websites I decided to see what if anything can be done about it. I contacted ScamAdvisor and Shaun who is researcher and editor is taking up our case as an example (because this isn't just about us this is worldwide fraud that affects all legitamate brands ). Shaun is attending The Consumers International Summit in Portugal next week and will be talking about the issues that affect companies like mine who are being targeted by these rogue websites.
You can read and see below the original, the stolen image and the actual dress that arrived when we decided to order from www.floryday.com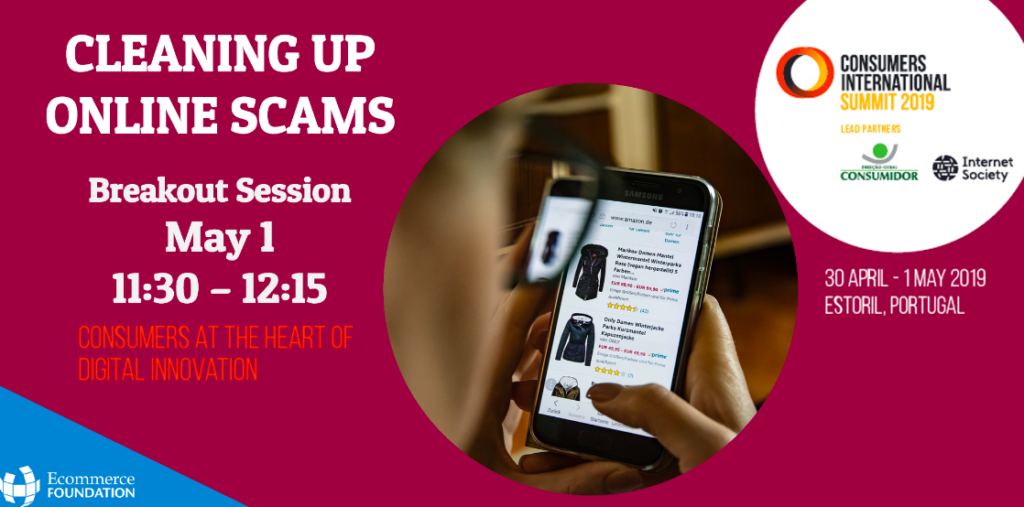 INTRODUCTION TO BY STORM TRADING AS JOYCE YOUNG DESIGN STUDIOS
By Storm Ltd was registered in Scotland in 1993. We traded as By Storm with our registered trademark until Sun 99 Ltd  trading as Storm watches repeatedly tried to stop us using the name By Storm.
Tiring of their aggression and the lawyers fees we now trade as Joyce Young Design Studios.
We design and manufacture ladies couture special occasion wear mostly wedding dresses and mother of the bride/groom outfits and these are individually made in our own purpose built production unit in North Glasgow. We employ 20 highly skilled people and our designs are exclusively sold from our own shops in London and Glasgow.
We create 2 new collections every year in the highest quality silks, laces and embroideries. We have won many awards for design and service over the past 26 years, the greatest honour being awarded an OBE by the Queen for services to textiles in 2013.
We are not an online business, although we do remotely make outfits to measure for clients all over the world even doing fittings by Skype. Our business provides a complete experience from the moment the client walks in through the door to the day she leaves with her unique outfit we aim to make all her visits pleasurable and memorable and a happy part of the run up to her big day.
This individual design, quality and service doesn't come cheap at the same time we provide great value for money charging a lot less than other London design companies.
The costs of Design and Development Photography and Marketing are the same whether you are selling 10 or 10,000 dozen and the costs have to be absorbed in the price. Individuality comes with a price tag otherwise everyone would have one !
Therefore to find our designs being promoted over all social media channels at rock bottom bargain prices with photographs stolen from our website makes me very angry ! I was told by my mother as a child that "copying is the sincerest form of flattery" I'm afraid I never bought into that. I always wanted to be different from others not follow the herd. I find it difficult to understand the Celebrity Culture nowadays, where are the individuals ? To see my hard work being plagiarized by scam websites is very upsetting. It's not me only the particular site that I am highlighting is www.floryday.com every photograph on their site has been copied directly from a genuine designer's site and then they offer a knock off of the design at a fraction of the cost to the susceptible public.
They even have a watermark across the picture as if it is copyright to them when actually they have stolen it !
These sites are actually easier than you may think to spot. Apart from the SALE and discounted prices on all their products the photography and models have absolutely no consistency. On a genuine site there will be a theme running through the photography each season. The backgrounds and models will repeat, they will have a "look" that promotes their clothes. Floryday is all over the place with standards of photography as they come from very diverse sites.
Somewhere in the world are very sophisticated web developers and IT specialists who are promoting these websites .
Below is a list of  a mere few :
https://www.hellopeter.com/floryday/reviews/floryday-defrauds-consumers-and-is-a-scam-2408950
https://www.nancygown.co.uk/wedding-party-dresses/mother-of-the-bride-dresses?page=32
https://www.mybesthoney.net
https://www.luulla.com
https://m.dhgate.com/product/2016-plus-size-wdding-evening-dresses-for/390377022.html#msviewed-2-9%7Cnull:01:r0481190291
They even have their own Facebook pages but try and write a genuine comment – it won't see the light of day ! On Floryday site there are many reviews but try and find where to write a review ! On Facebook they are called Floralday maybe a spelling error ?
The images taken from our website have appeared on a number of these sites but it usually costs a few hundred dollars to purchase .
On Floryday they were offering our French lace coat and silk dress for a mere £41.25 so we ordered one to compare the difference of what was in the photograph to what actually arrived ( we weren't sure anything would be delivered ).
The following week the item arrived in a tiny plastic bag . The speed of delivery means the company are sitting with stock. I ordered a Large size but what came barely fitted a size 10.
The original is a separate coat and dress. The fake is a one piece dress with no zip and the lace attached in at the shoulders. It has to be stretched over the head. The original coat is French Chantilly lace and the fake is the cheapest polyester lace . The original dress is dupion silk with hand stitched hem and piped edges and the fake is cheap stretch polyester satin with machine stitched hems. The shape is completely different and the size certainly doesn't relate to their measurement chart.
SCAM SITE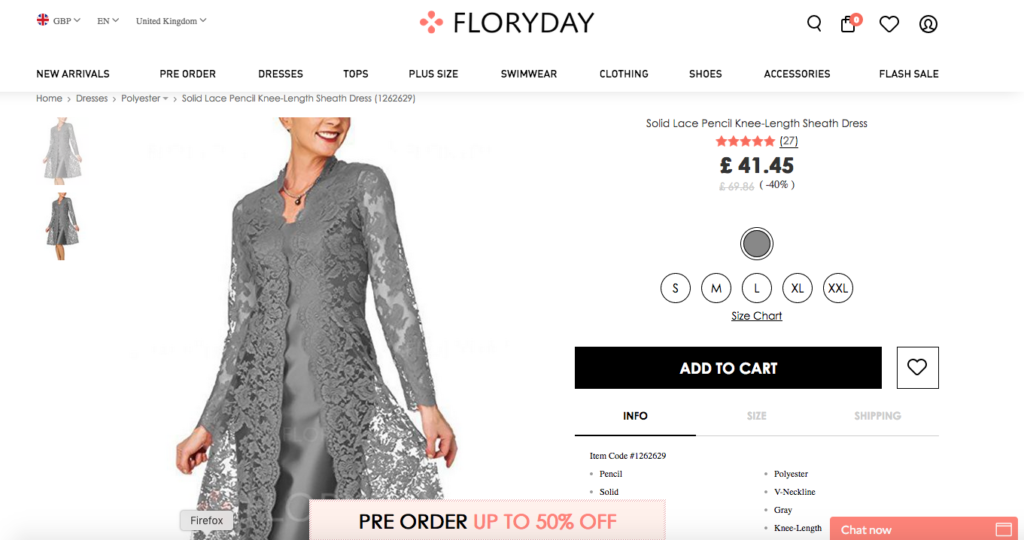 FACEBOOK PAGE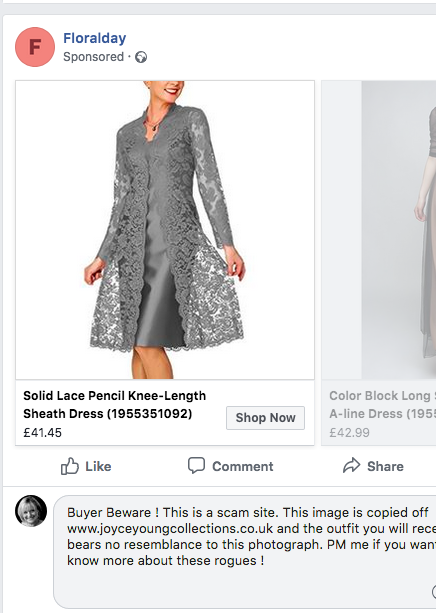 MESSENGER RESPONSE FROM FLORYDAY
"Of course Floryday is safe. we even have been verified by Norton Security as HTTP Secure with SSL Certificate. as one of the top trusted e-Commerce companies online, so rest assured that we are 100% legal and safe. We just reached a million customers that are shopping on Floryday."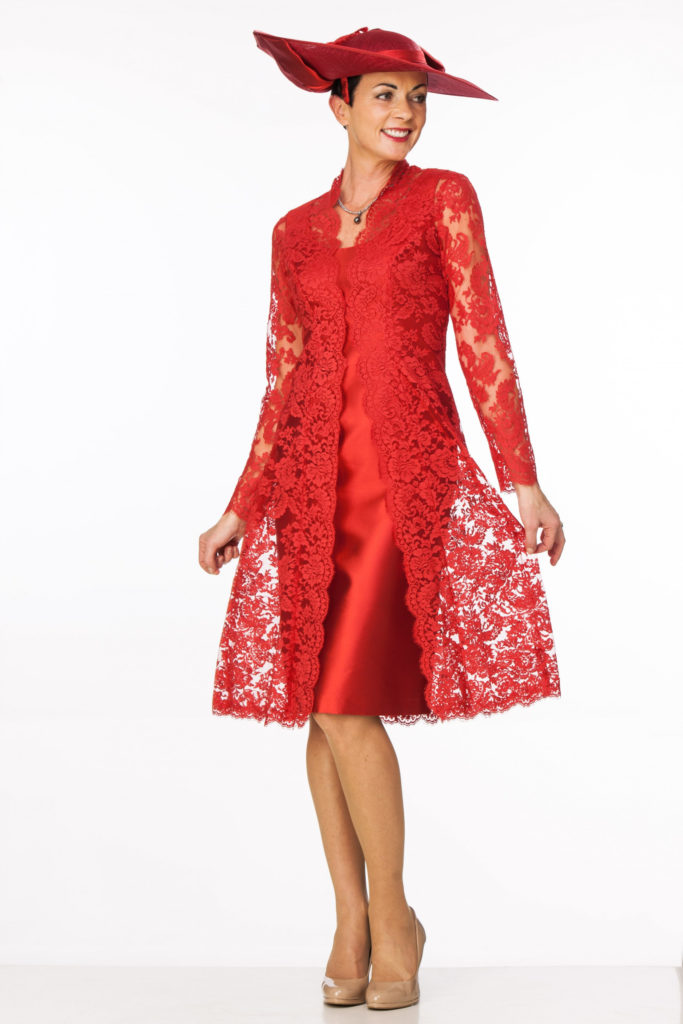 Below is the original in outfit photo taken in our production unit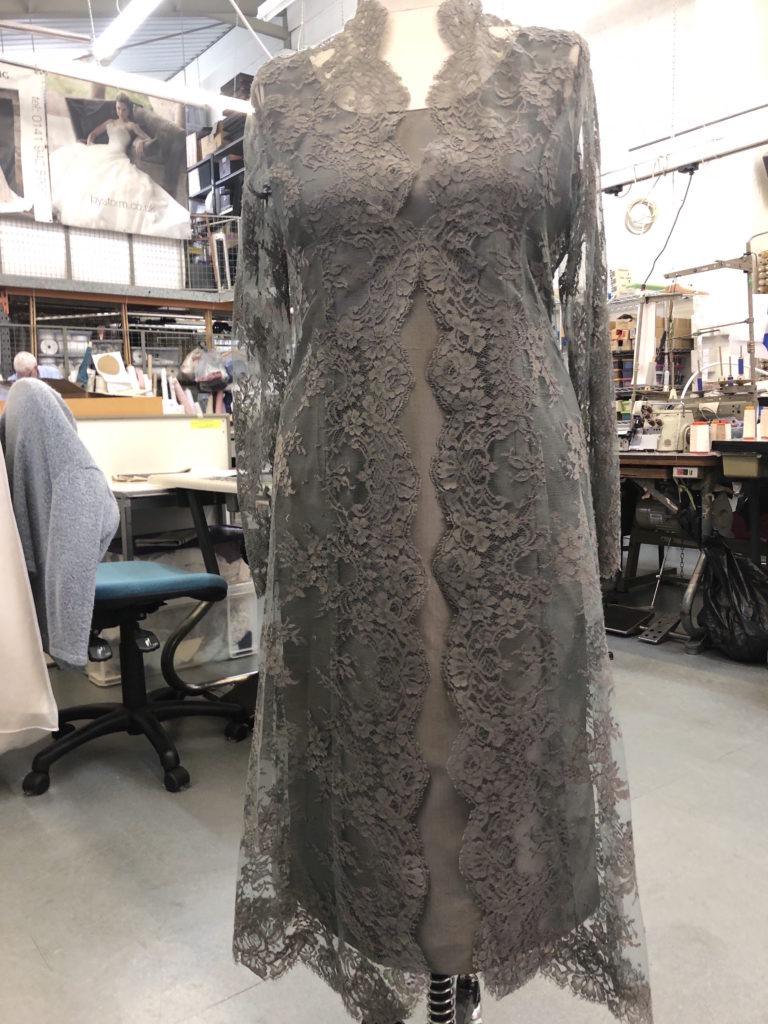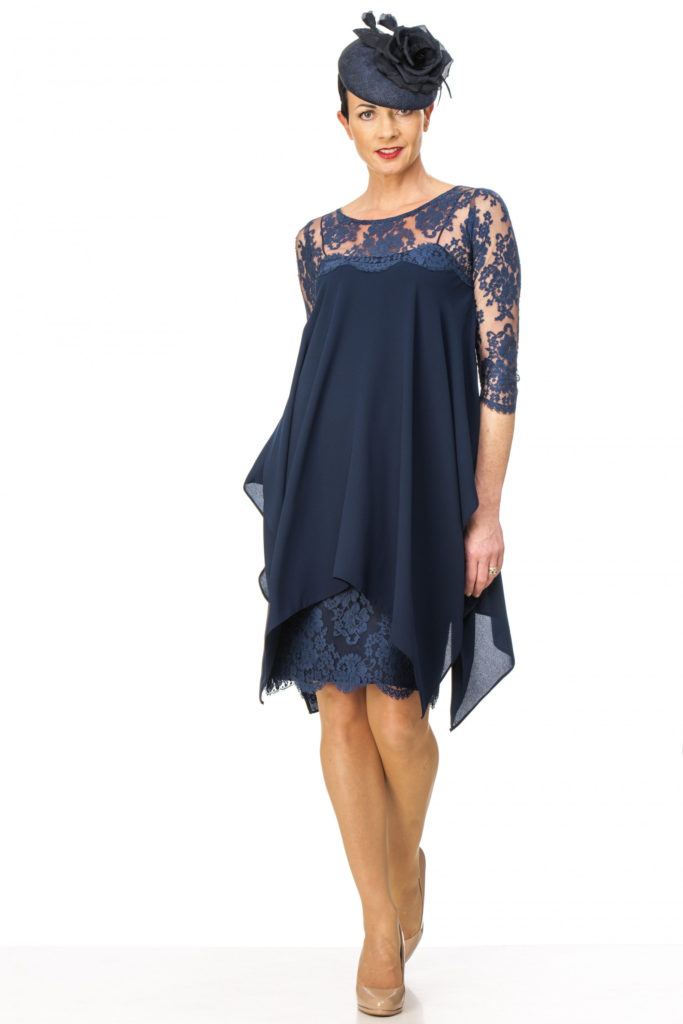 Client's Alert :  I came across this site yesterday by accident. It has your design on it, my dress 🤣🤣
Not sure if you are aware. Maybe nothing but thought I would let you know!
https://m.dhgate.com/product/2016-plus-size-wdding-evening-dresses-for/390377022.html#msviewed-2-9%7Cnull:01:r0481190291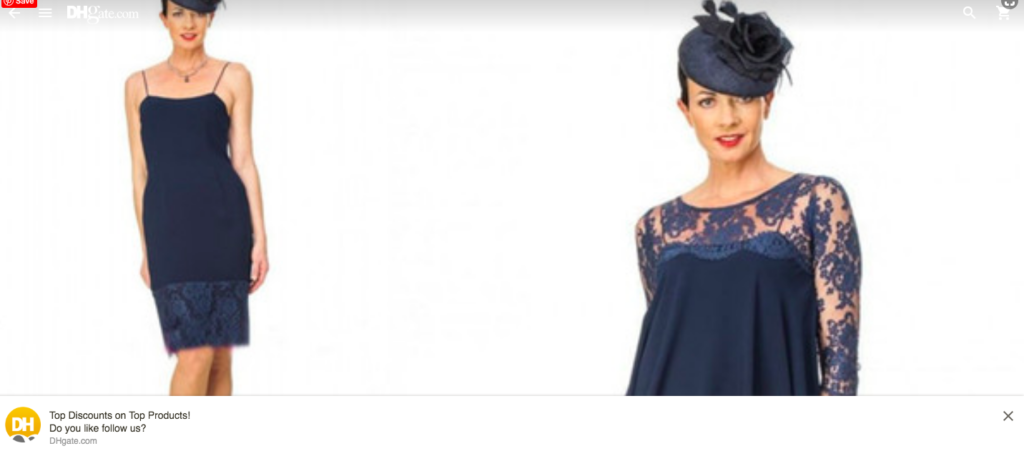 And another different site again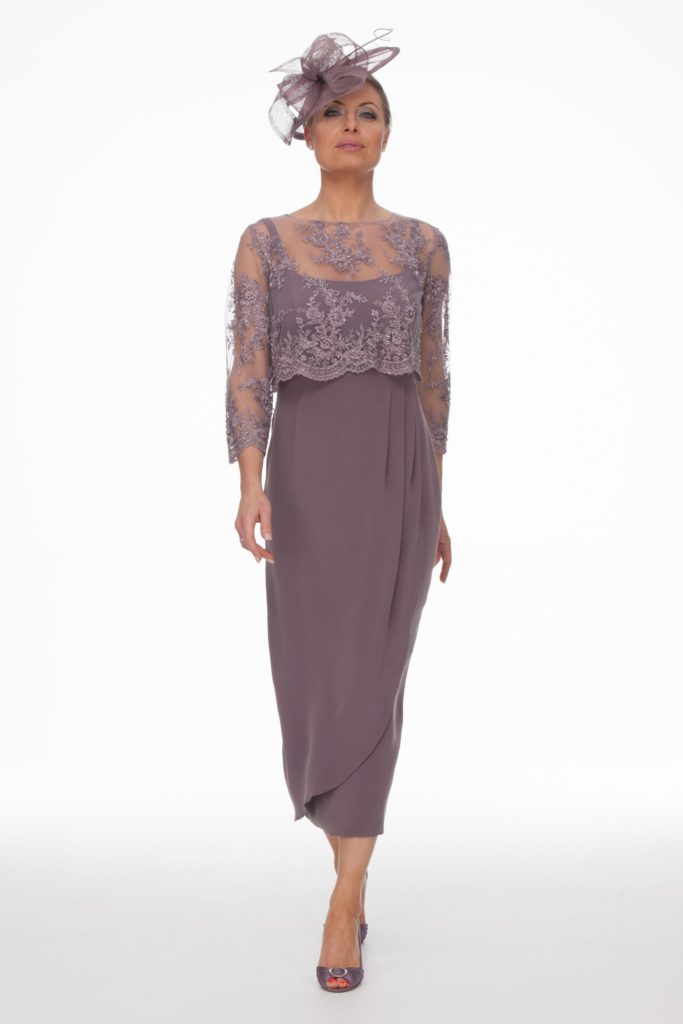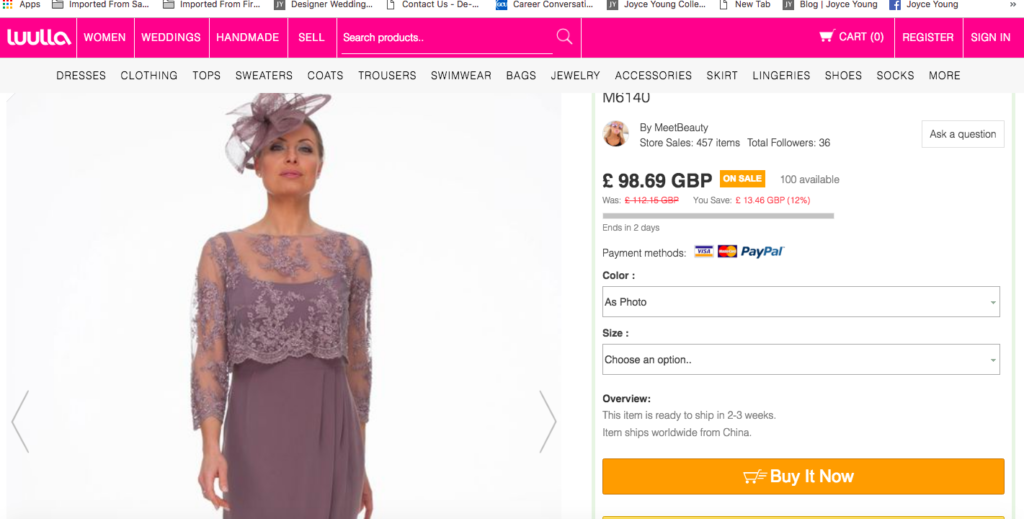 IN SUMMARY
I have been in the fashion since 1975 and I know exactly how the industry works. Copying takes place all the time. Big companies have legal departments to defend them from allegations of designers accusing them of copying their designs ref. Lisa Bruce who accused M&S of copying her dip dyed swimming costume in the 1980's . She stood against them and lost and virtually lost her business because of the expense of going up against the giant.
Mainly designs can be said to " be inspired " by other creations and not directly copied or risk being sued.
However actually copying a designer's photograph off the genuine website and posting it on the scam site and passing off an inferior product as the original , doesn't matter what price , surely this has to be illegal . All the expense of the design and development and fees of the model, make up artists and photography have been paid by the original designer and along comes these piranhas and take all that for nothing !
The unexpected downside of this for us is that potential customers have contacted us and say they don't want to come as we are selling our designs at cut price to other websites. This has come from a couple of people who took the time to phone us so how many others are out there who are put off by this erroneous conception ?
Our existing customers very often come across the outfit they have purchased from us on a scam site (see above ) most will know that it is impossible for these deals to be true but some have been perturbed to see their outfits being offered at a fraction of the price.
I'm told there is nothing we can do about it. Maybe someone or some people at the Consumer Conference in Portugal next week will have ideas on how to deal with this unashamed plagiarism . In the meantime all we can do is try to make people aware of when they are being conned.