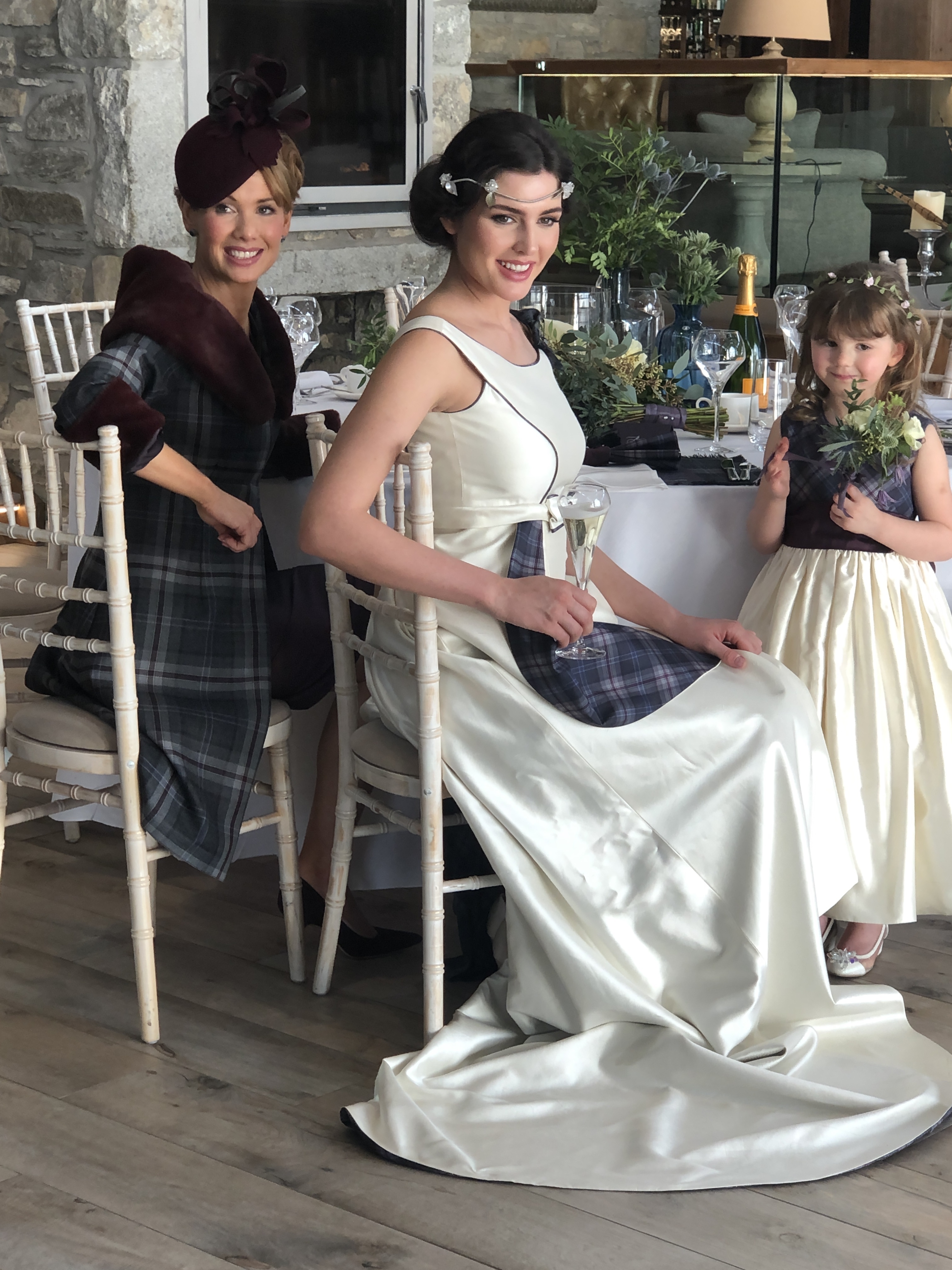 Snapshots from behind the scenes of the collaboration between Scottish companies MacGregor and MacDuff and Joyce Young Design Studios at GG's Yard thank you to all our collaborators:
Highland Wear – Mac Gregor and Macduff
Bridal Party Outfits – Joyce Young Design Studios
Venue – GG's Yard
Hair – The Bride to Be
Make up – Laura Dawson Make up
Wedding Stationary – My Eden Rose
Floristry – Maybelle Thomson
Shoes – Emmy London
A Tartan themed wedding is spectacular. Scots girls worldwide can get married making a real statement in a wedding dress from the Joyce Young Tartan Couture Collection which teams up with the groom's kilt. Add in coordinating bridesmaids and mothers and the colourful combination is stunning, Scottish and Unique.
You don't even have to be Scottish, it's a great look, and most people can find a Scottish connection somewhere in their family tree. You can choose your dress from a wide selection of styles incorporating just a subtle touch of tartan or be totally outrageous in head to toe tartan. We have been specialising in Scottish weddings for many years and can theme your unique day from dresses to venues. Tartan weddings by Joyce Young are original, stylish and lots of fun!
The collaboration with MacGregor and MacDuff was focused around their stunning Islay Mist Tartan to create a full Tartan Bridal Party look. Using the Iona Tartan Couture Wedding Dress, an updated Collection C for one of the Mothers Outfits, a new Organza Coat with a Tartan Dress for the other Mothers Outfit and a bespoke Flower Girl Dress.
Your tartan couture dress or outfit will be made uniquely for you in your choice of fabric, tartan and design. The process starts with trying on styles and your own design being sketched and order placed. Your measurements will be taken either when the order is placed or at an agreed later date.
The main thing is to decide on your design so that the fabric can be ordered and the production space booked. Measurements can then be left until later but you are safe in the knowledge that your dress has been booked into production. If the order is left very close to the end date it may be impossible to make it in time at busy periods. Whenever possible we will try to accommodate late orders but it is inadvisable to come at the last minute. Part of the fun of any special event coming up is the process of planning and enjoying the experience of the journey. Being organised in advance takes the pressure away.
If you are interested in having Tartan in your wedding please send us an enquiry or book an appointment with us in one of our luxury showrooms in Glasgow or London.
collaboration