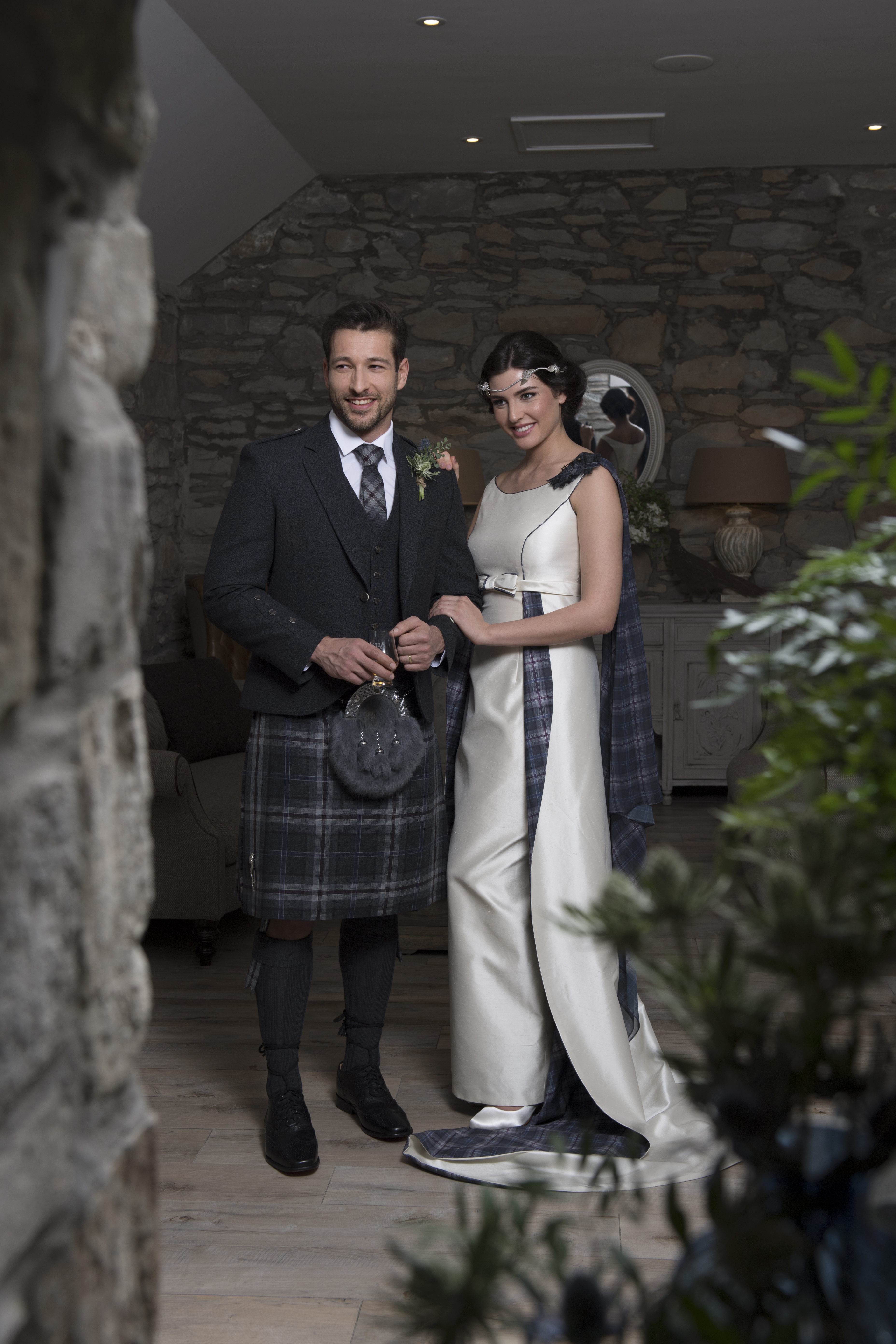 A match made in Tartan, a love story between MacGregor and MacDuff and Joyce Young Design Studios.
It's Valentine's Day! What better day to announce our new collaboration with Kings of Kilts MacGregor and MacDuff. Life is about relationships and sometimes people find each other and just click!  What better fit than two leading Scottish companies passionate about their heritage bringing together brides and grooms creating a truly Scottish wedding with worldwide appeal.
We feel it's very fitting to announce our partnership today on Valentine's Day . A special day for lovers getting engaged, future brides and grooms who will soon be planning their own unique style of wedding. Whether the theme is romantic, glamourous ,low key or spectacular, tartan is very likely to feature. In Scotland most grooms wear either a kilt or tartan trews and it is becoming increasingly popular for the bride to show her love by wearing the groom's tartan.
Like the hand fastening ceremony and drinking from the quaich, the combination of bride and groom in tartan, symbolically weaves their future together.
Coordinate the complete bridal party with the colours in the groom's kilt and create a look that is Modern, Scottish, and Stylish with International Appeal. It truly is a match made in Tartan.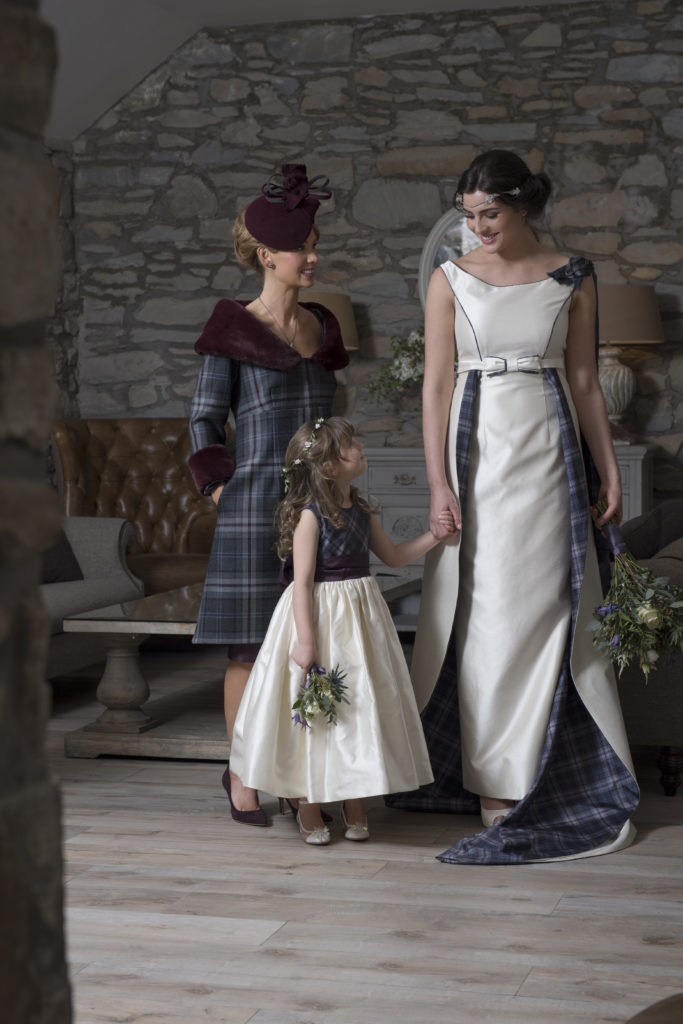 Bride, Mother of the Bride and Flower Girl al wearing Islay Mist Tartan
Our collaboration came about when  MacGregor and MacDuff  suggested combining their beautiful Islay Mist Tartan into our Iona Wedding dress and we couldn't resist!  The seed was sown and the project grew arms and legs as we created a collection of special occasion wear and flowergirl dresses using combinations of silks and Islay Mist tartan printed satins and chiffons.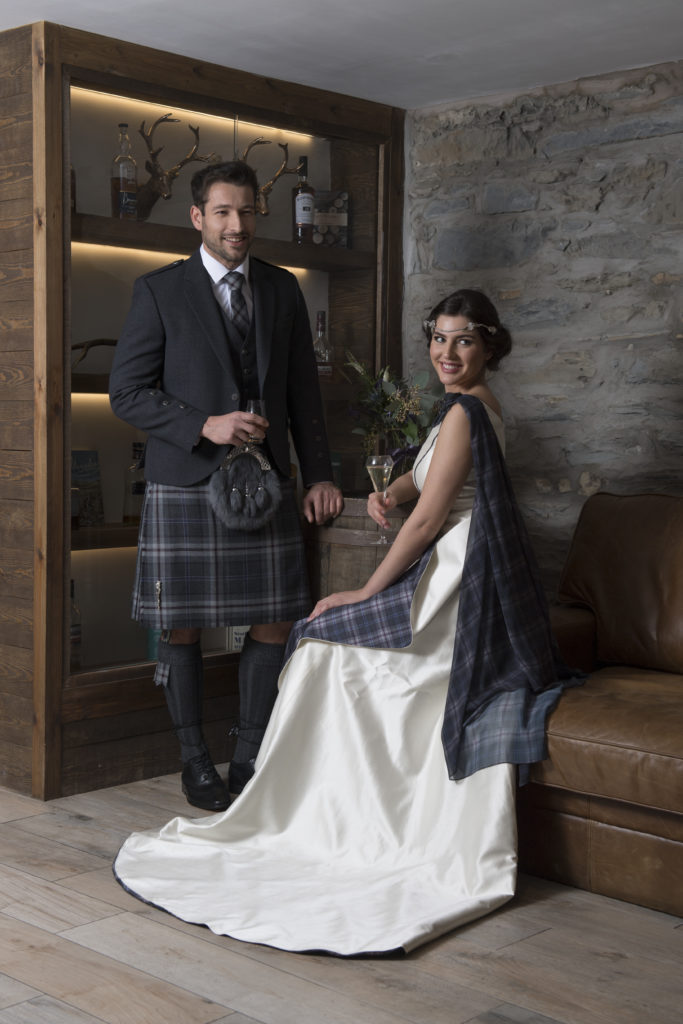 Bride and Groom wearing Islay Mist Tartan
Launched in 2019, the Islay Mist has been a huge success for MacGregor and MacDuff, and a popular choice for both hire and kilt purchases. Inspired by the breathtaking landscapes and sunsets from one of Scotland's most iconic Hebridean Islands; the tartan features ocean shades of grey and blue, deep purples and a line of rosewater.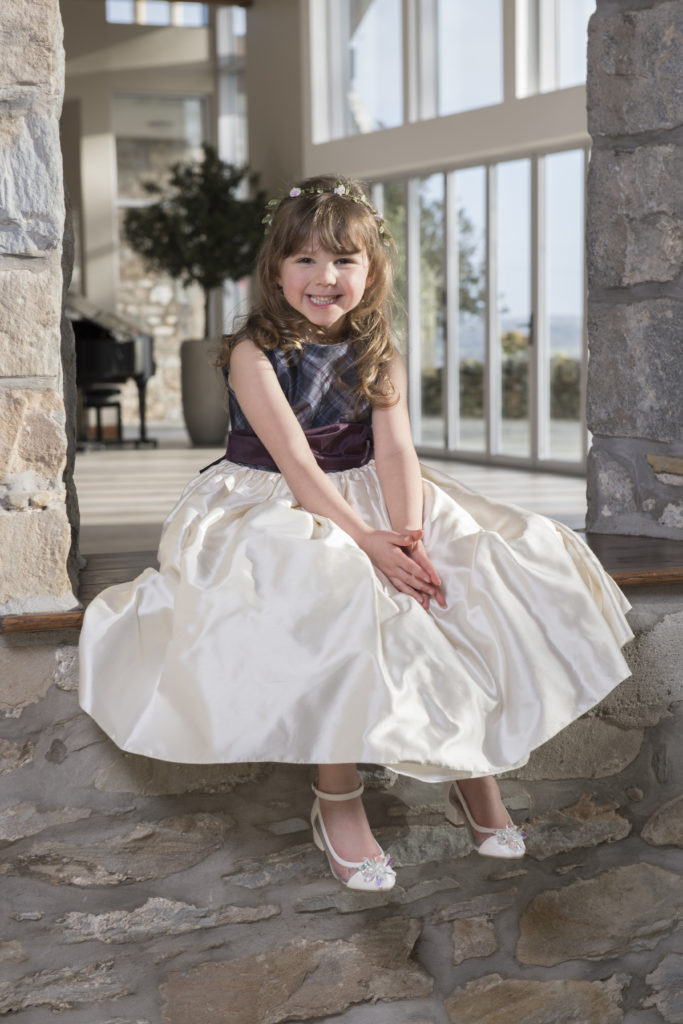 Bespoke flower girl dress in Islay Mist Tartan
The clean elegant lines of our Iona dress made it the perfect choice to compliment the colours and provenence of the Islay Mist tartan design.
"Printed onto silk, we were amazed at how perfectly the tartan was represented onto a new fabric, each colour a complete match to the ones that are woven into our cloth. Not only did Joyce Young create a breathtaking wedding dress, she also created two Mother of the Bride variations, as well as a flower girl option." – extract from MacGregor and MacDuff's Blog
Iona Wedding Dress In Islay Mist Tartan
Our official photoshoot to showcase our new collaboration was held at the popular venue GG'S Yard. A stunning rural venue on the hills, overlooking Scotland's southern coast. The 250-year-old farm steading was the perfect location for our shoot, with stunning views in and outdoor on the private 1000 acre estate. The shoot was organised to the finest detail, with beautiful Islay Mist inspired table settings and invitations by the extremely talented Eden Rose and the exquisite thistle floral displays by Maybelle Thomson.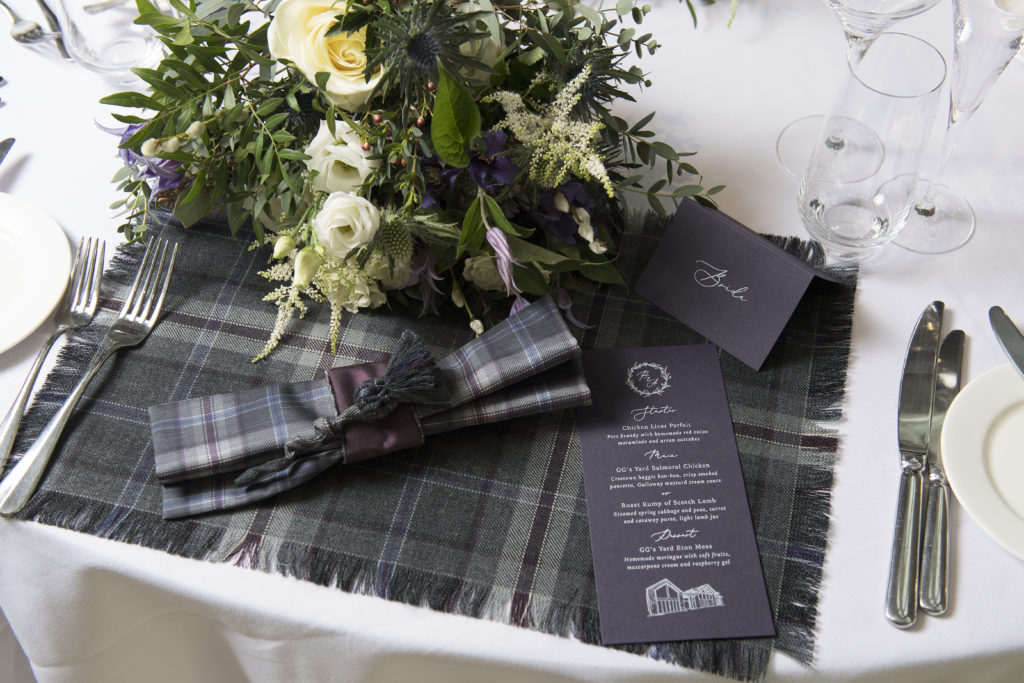 Eden Rose Table Setting and Invites and our Funky Tartan Thistles and placemat.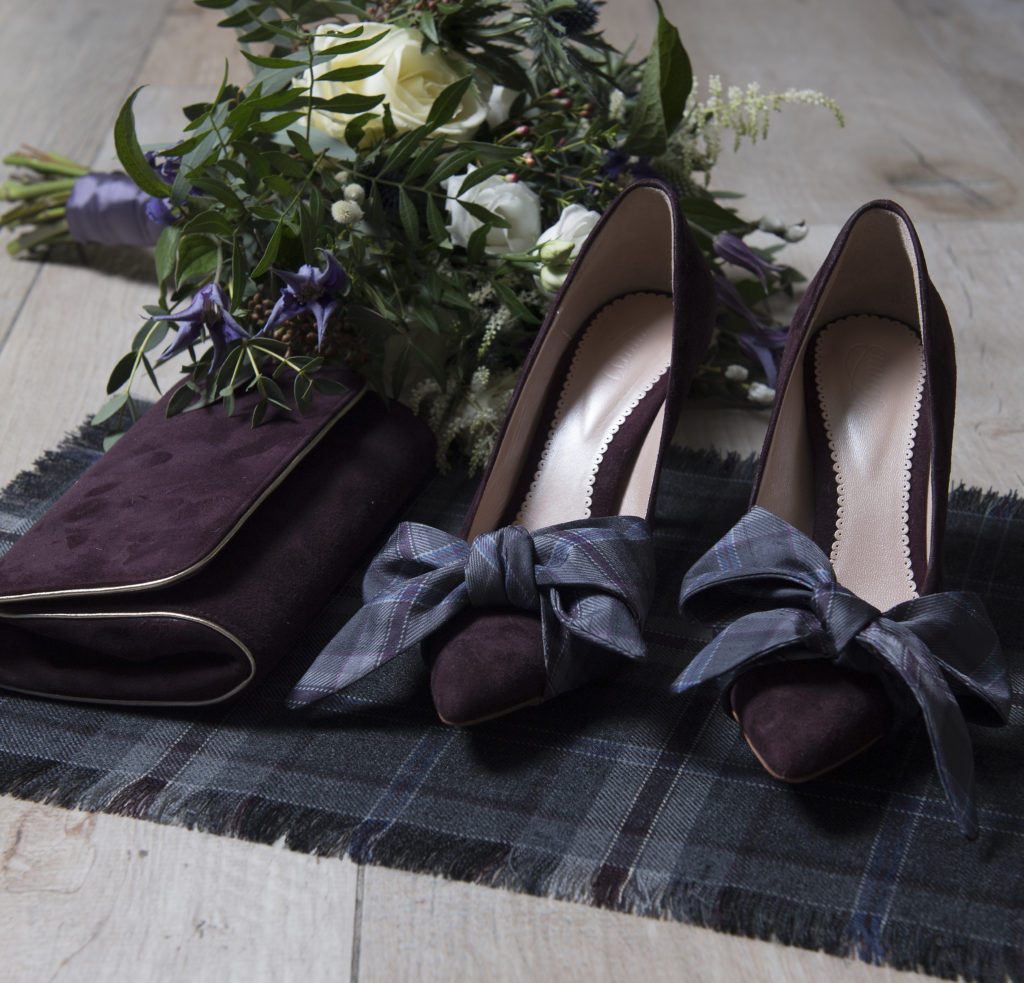 Emmy London shoes and Bag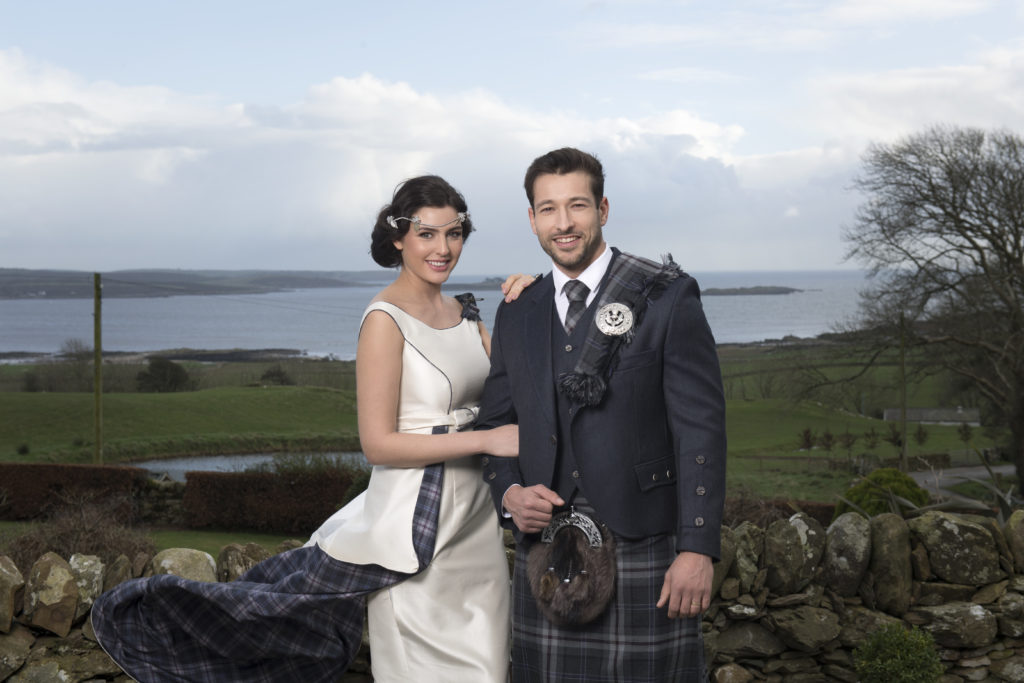 Bride and Groom both in Islay Mist Tartan
Our partnership with MacGregor and MacDuff working on a truly Scottish design was a perfect fit for us to honour our heritage in a completely unique way. Keep your eyes peeled over the coming weeks, our beautiful outfits from the collection have been displayed by MacGregor and MacDuff's talented visual merchandisers in their window display on Bath Street, as well as our collaboration being showcased at the upcoming SEC Wedding Show. 
Shop window with our bridal party in Islay Mist