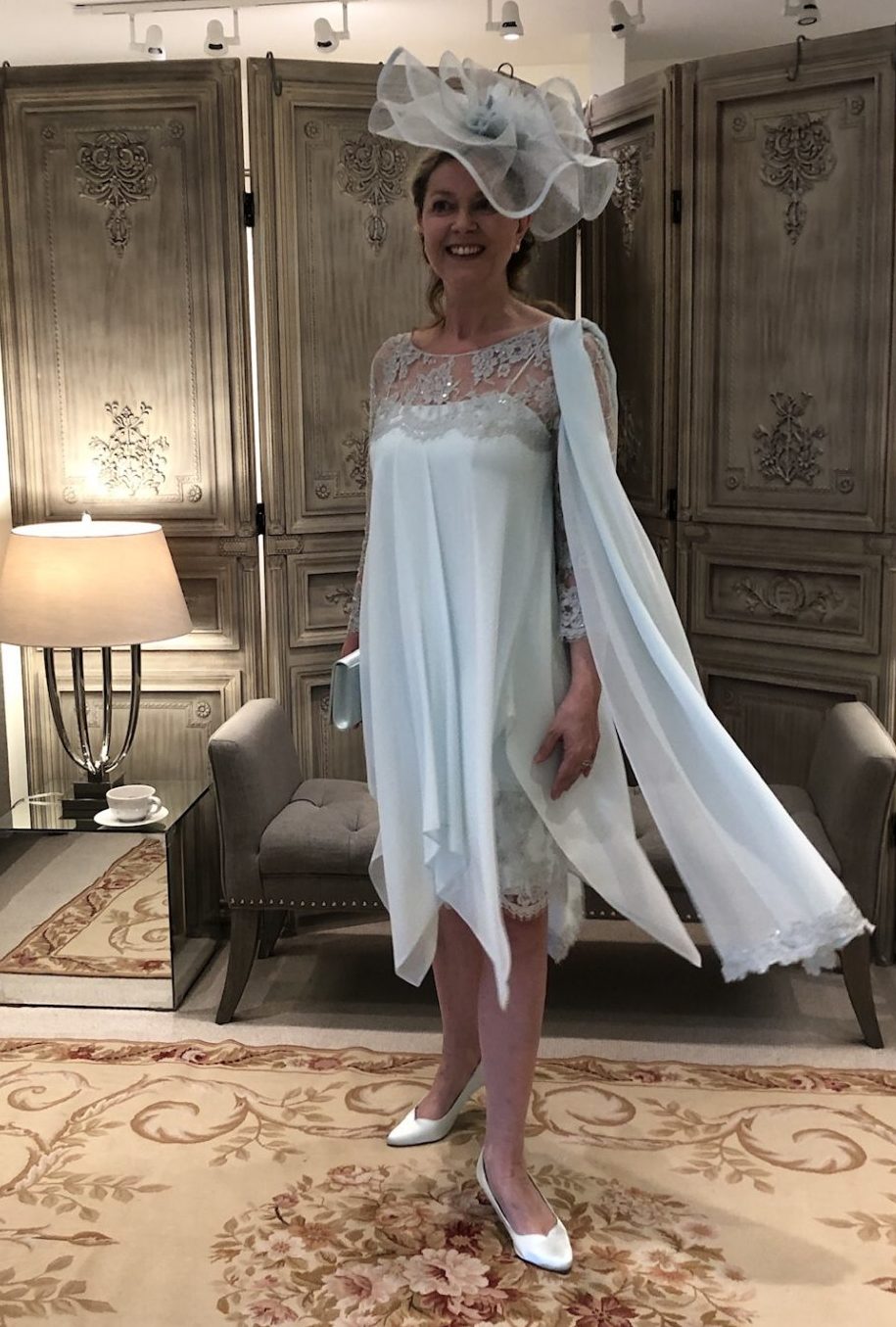 Hope you enjoy the 60 second videos below of some of our Real life Mothers and Older Brides photographed in our showrooms in Glasgow and London collecting their outfits. Hair and make up not done but all wearing the biggest smiles.
Inspirational , Aspirational and Attainable . Advertising tends to focus on slim young things even when it comes to mothers of the bride/groom outfits. We love to see our outfits shown on aspirational models and imagine we too can look like this. This original image draws us in. None of us want to see the strong sunlight reality of age. The soft focus of evening light is our friend. If this is you ….YOU ARE NOT ALONE !  If you have a son or daughter getting married then it is likely that you will be in your fifties, sixties or even seventies as our kids are leaving it later nowadays before committing to tying the knot.
There are so many positives. Age gives us Experience, Knowledge and Empathy and a new freedom for some. It can also make us less feel confident as we see marketing focused on youth.
As a designer of special occasion outfits for my own age group I feel great empathy for our clients. We have 27 years of experience in dressing mothers of the bride and groom and we totally understand all the many insecurities that our clients come in with. I'm hoping through this series of videos and chat that we can dispel any feeling of apprehension before making an appointment.
No two of us are the same either in size or personality. This makes each one of us unique and very interesting. However when it comes to buying ready made clothes this is not so interesting or easy. What is a standard size ? Who is a standard size ?
Although made to measure isn't for everybody when it comes to purchasing an outfit for a special occasion having an outfit made to fit perfectly in your choice of style, fabric and colour is a fantastic confidence booster. We get so many letters and cards after the weddings from our lovely clients to say how amazing they felt on the big day and how they were almost embarrassed by the volume of compliments they received.
We love to hear your feedback and see your photographs .
I would like to set up a FOCUS GROUP of past clients who have had outfits made by us in Glasgow and London. The purpose of this would be to find out what more we can do for you. How you found our service and what improvements you would like to see.
We already have diversified into our Day Dress Collection and our Tartan Collection and I believe that now more than ever every business needs to have a few strings to their bows. It would be interesting to know what you our clients are looking for.
Initially we would send you a questionnare and then if you agree we could do a Zoom call with a few people, eventually when we get back to "new normal " we could meet in one of our showrooms.
If you would like to be part of this FOCUS GROUP I'd love to hear from you . Please email joyce@bystorm.co.uk
Real Life mothers 60 second video 1
Real Life Mothers 60 second video 2