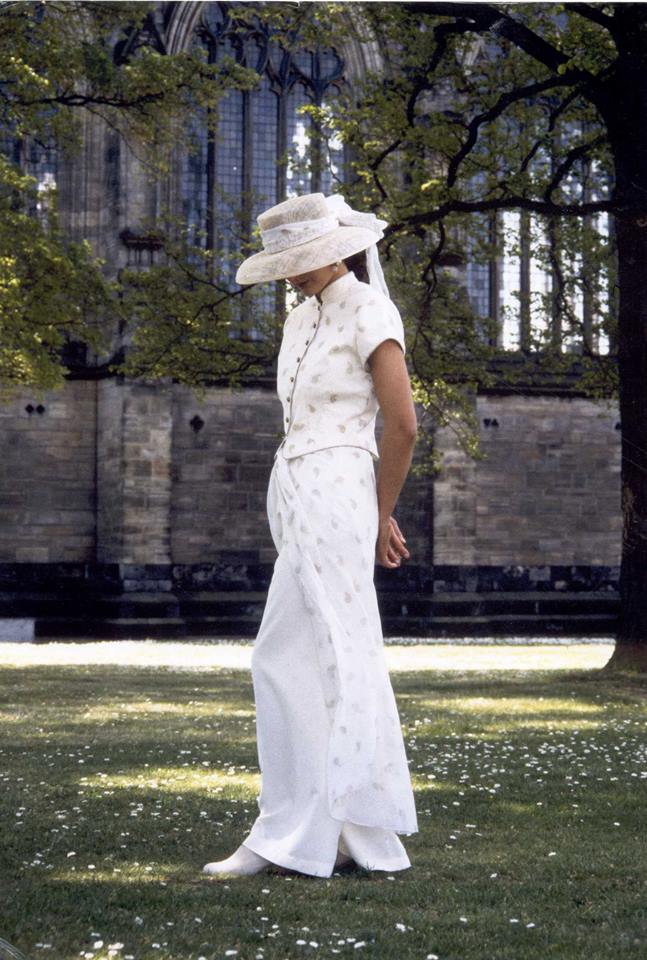 Joyce reminisces over the past 25 years in business…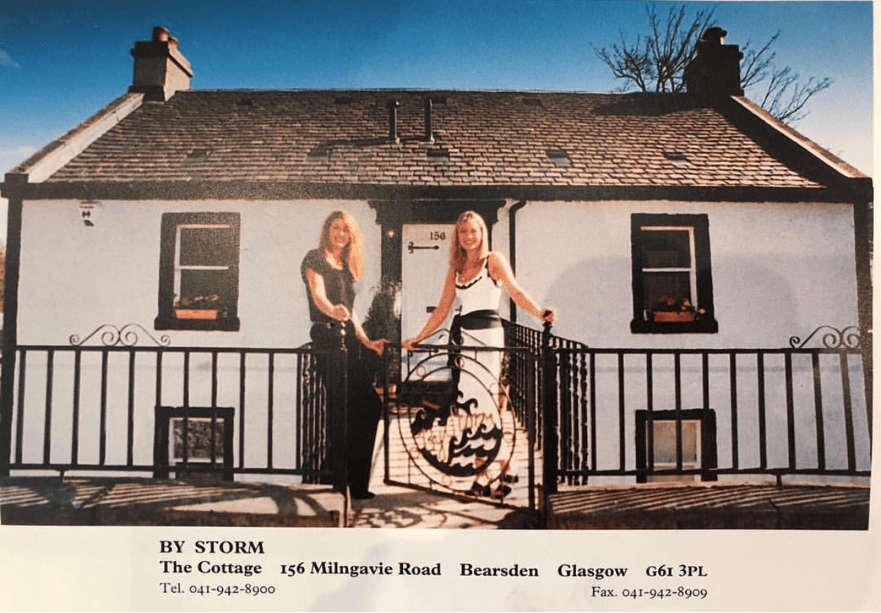 Doesn't time fly ?  It is 25 years to the day since the launch of By Storm in our beautiful 18th Century Cottage on Milngavie Road in Bearsden. We love a party and on the Saturday 23rd April 1994 we threw open our doors to the ladies of Bearsden and Milngavie inviting them to see our stunning collections of Cruisewear. This was a gallery of designer clothes by Joyce Young paintings and arty things , all for sale.
It took off like a whirlwind and word got round very quickly about our unique store. Clients started wearing our more dressy designs to informal weddings and one day a young bride- to -be came in and asked me to design her wedding dress and her bridesmaid dresses. This was the start of the transition from Cruisewear to Special Occasion wear and Wedding dresses. By the following year we were organising catwalk shows and started exhibiting at the Scottish Wedding Show .
The designs at the time were very different to anything available in wedding boutiques. While others were still offering shepherdess dresses we were showing long lace coats with side slits and chiffon trousers. We were very much  the Alterative wedding specialists. My designs are never outrageous always sophisticated and elegant, classic with a twist. I believe that less is more specialising in colour , texture and detail but no fuss and always using the best quality luxurious fabrics. This is as true today as it was 25 years ago. My background is Glasgow Art School and I've been a fashion designer since 1975 before setting up By Storm in 1993 and opening our first shop a year later
          Designs for Paisley Museum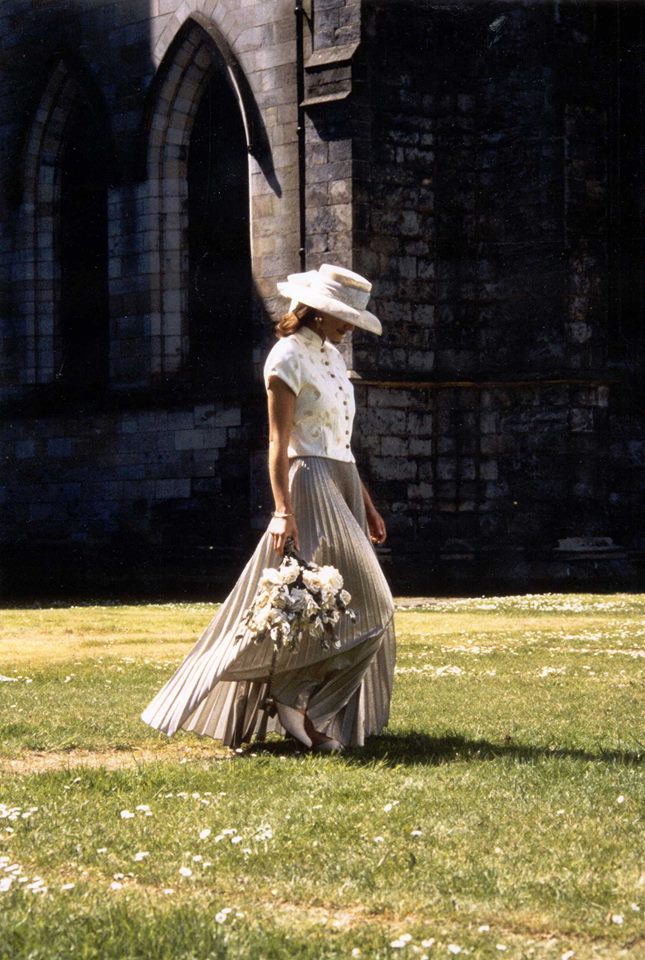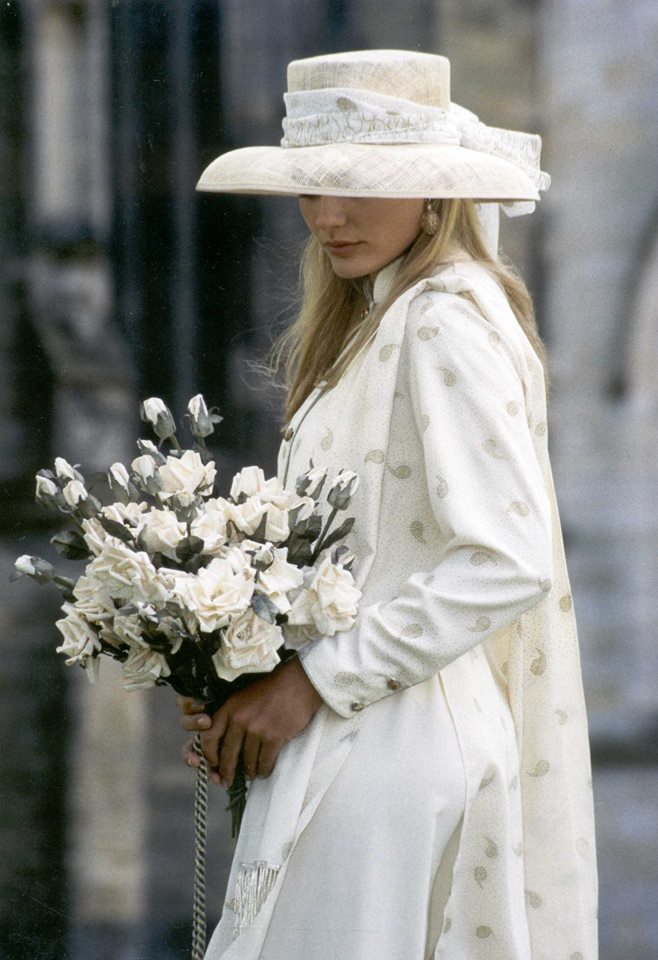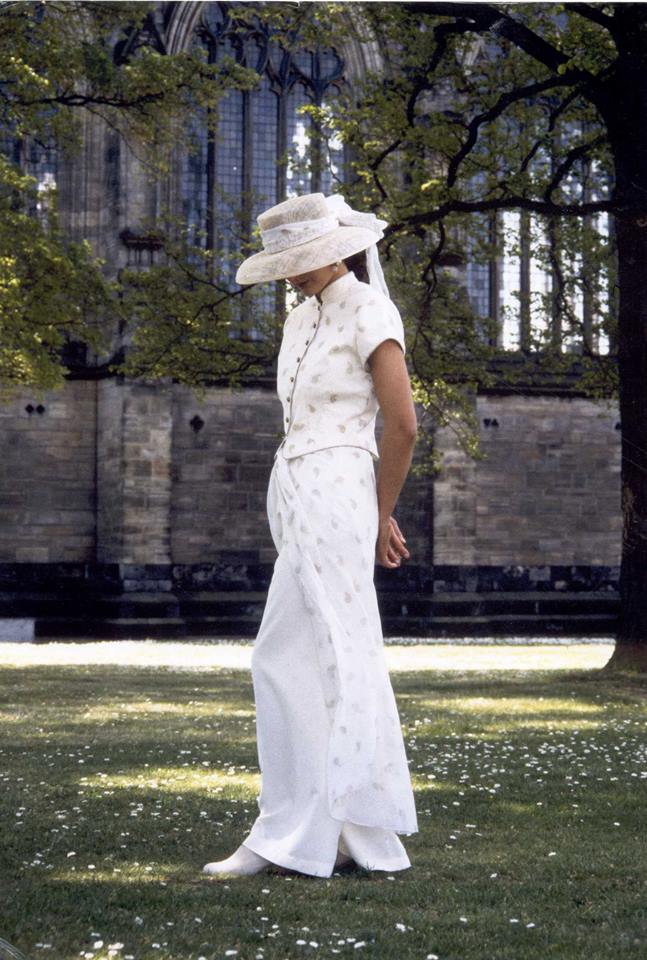 I was asked by Paisley Museum to design a capsule collection modernising the Paisley Pattern . This was a wonderful project and we worked in collaboration with Timorous Beasties to print on silk crepes and chiffons and produce knitted fabric at Galashiels Textile College to bring to life a collection that was shown on BBC Clothes Show with Karin Franklin. We were lucky enough to be promoted  several times on TV in the nineties. Not long after we opened ,Carol Smillie visited our new business with a film crew giving us fantastic exposure on lunchtime news  followed by taking part in STV's Business Game which featured diverse business's competing against each other. We won through to the semi finals which brought queues of potential customers coming to see this unusual business for themselves.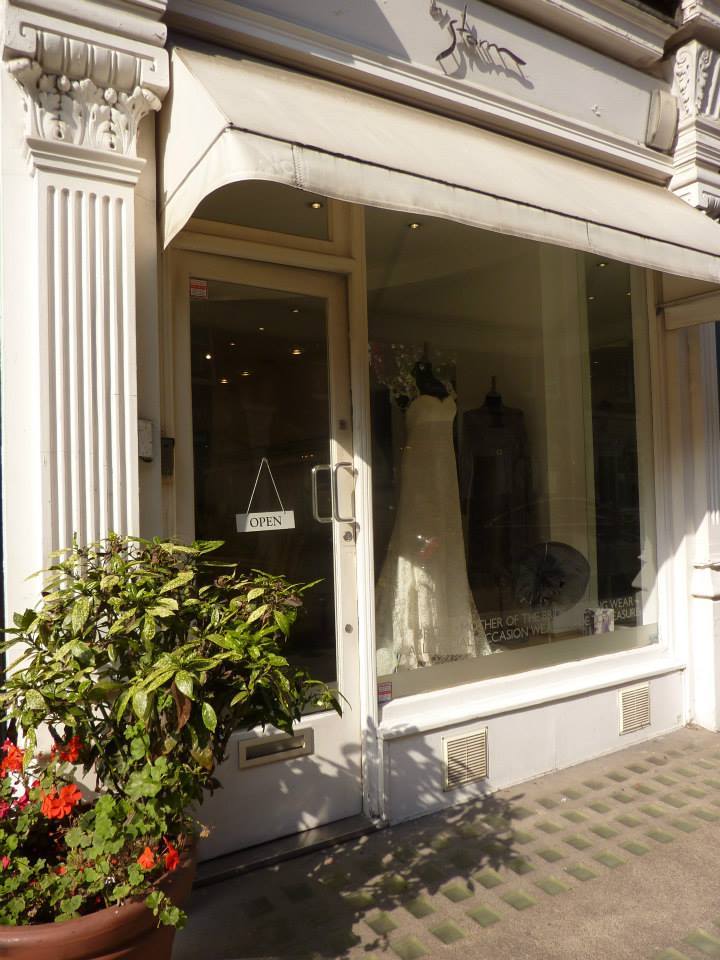 1999 was a big year for us with my marriage to Maurice and the opening of our first shop in Marylebone . London was a big venture and this year will be our 20th year in London. In 2014 we moved to bigger more elegant premises in Belsize Park and we love the diversity this brings to the business with clients coming in from all over the world.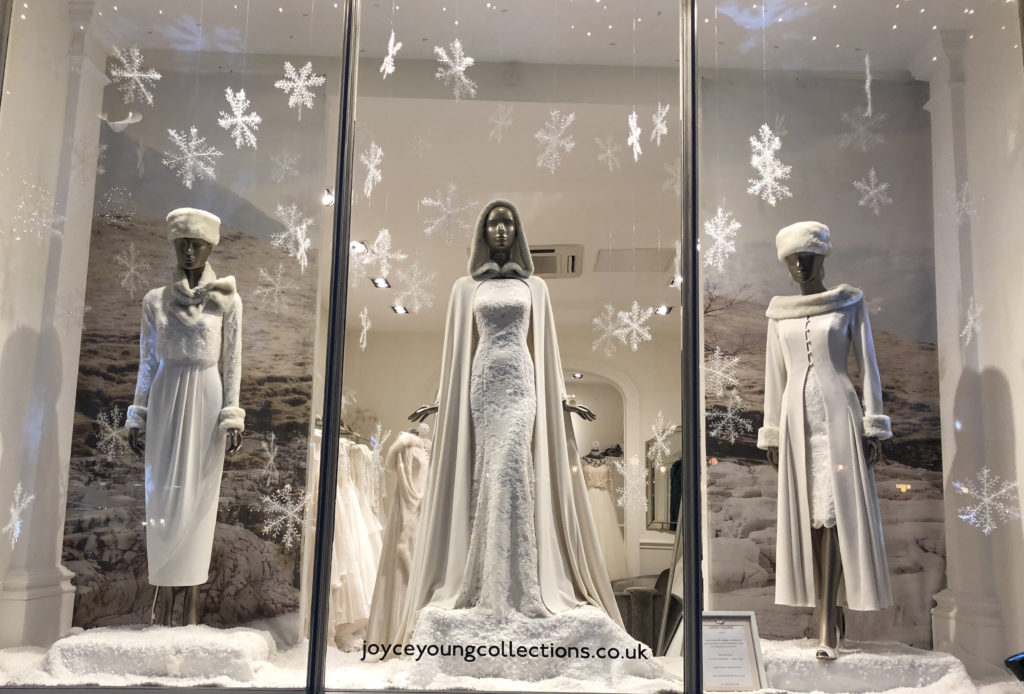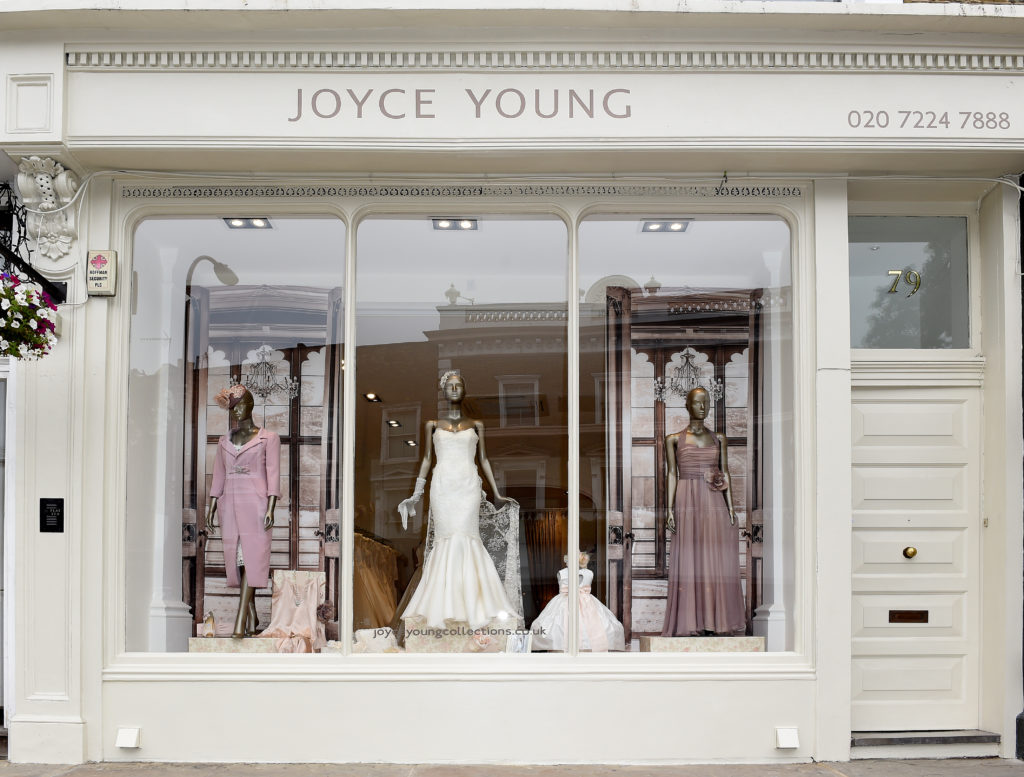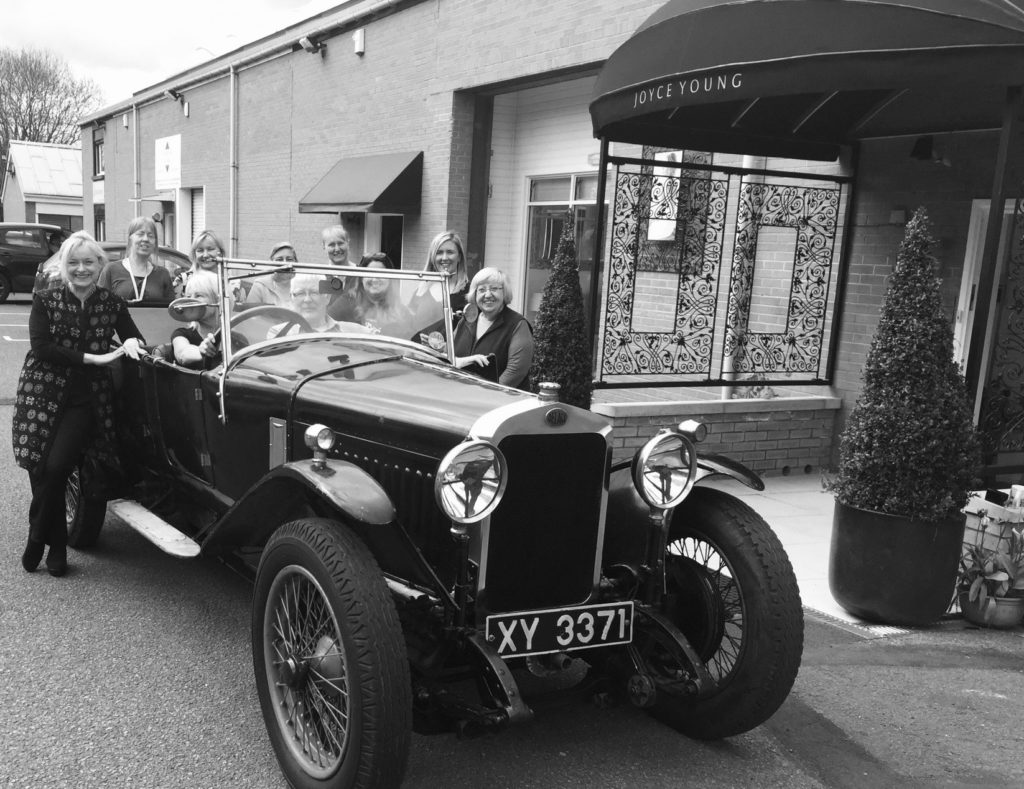 In 2000 we moved our production to a purpose built unit in North Glasgow . We now employ 20 very skilled and talented people many have been with us since the beginning. We are like one a big family.
In 2003 we launched our Tartan Spirit Collection of Couture Bridal and Mothers of the Bride and Groom outfits featuring tartan .This was unique at that time and we have developed the idea and the collections over the following years. This year, 2019 ,we launched a dedicated Tartan microsite on our website which tells the full story of our love of this romantic Scottish cloth.  https://tartan.joyceyoungcollections.co.uk/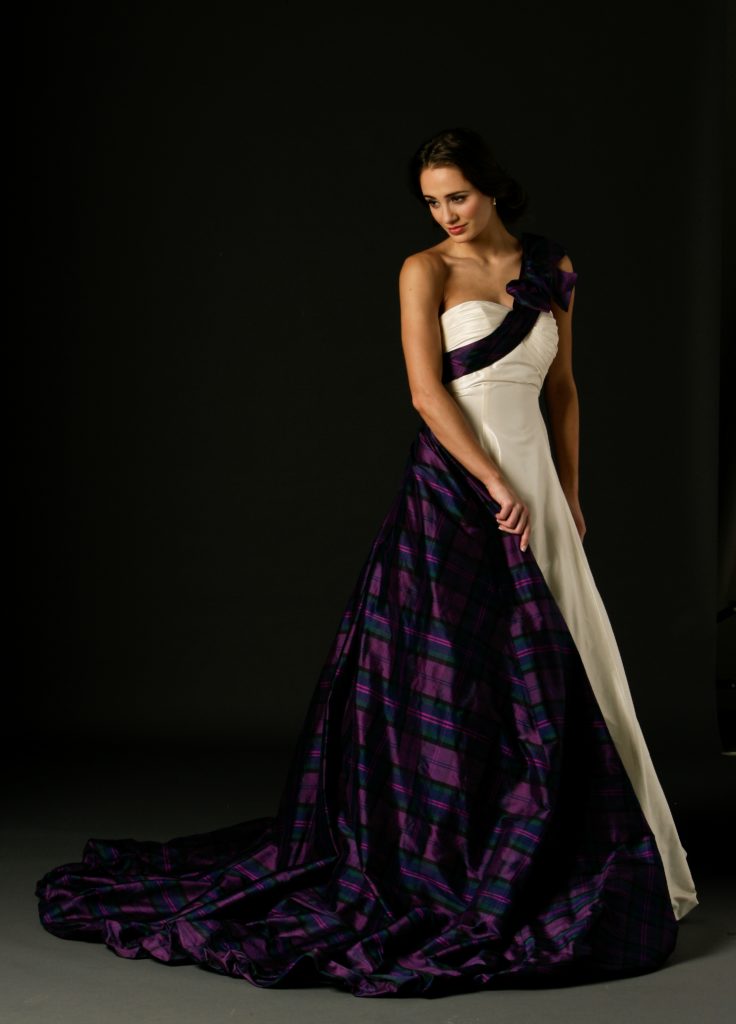 2004 saw the launch of our Weddings Abroad Collections. We noticed that more and more couples were choosing to go overseas to tie the knot and decided to design lightweight dresses suitable for beach weddings. The first photoshoot was in Mauritius with subsequent ones in St Lucia and Cyprus.
The following years were very busy with our made to measure bridal and mother of the bride and groom collections . We won 8  VOWS awards over the years outstanding customer service, including the pinnacle Industry Award 3 times in 2005, 2011 and 2013. We travelled to New York a few times for fashion shows and entertained the US benefactors of the Scottish National Trust on Central Park in 2010 with our Tartan Spirit Collection.
In 2012 I was astounded to be honoured with an OBE for services to Textiles and the local community in the Queen's New Year Honours List. The investiture took place in Buckingham Palace where I was thrilled to receive the award from Price Charles . It was a very surreal and wonderful day.
Since then we have made many outfits for clients who have received awards and are going to the Palace.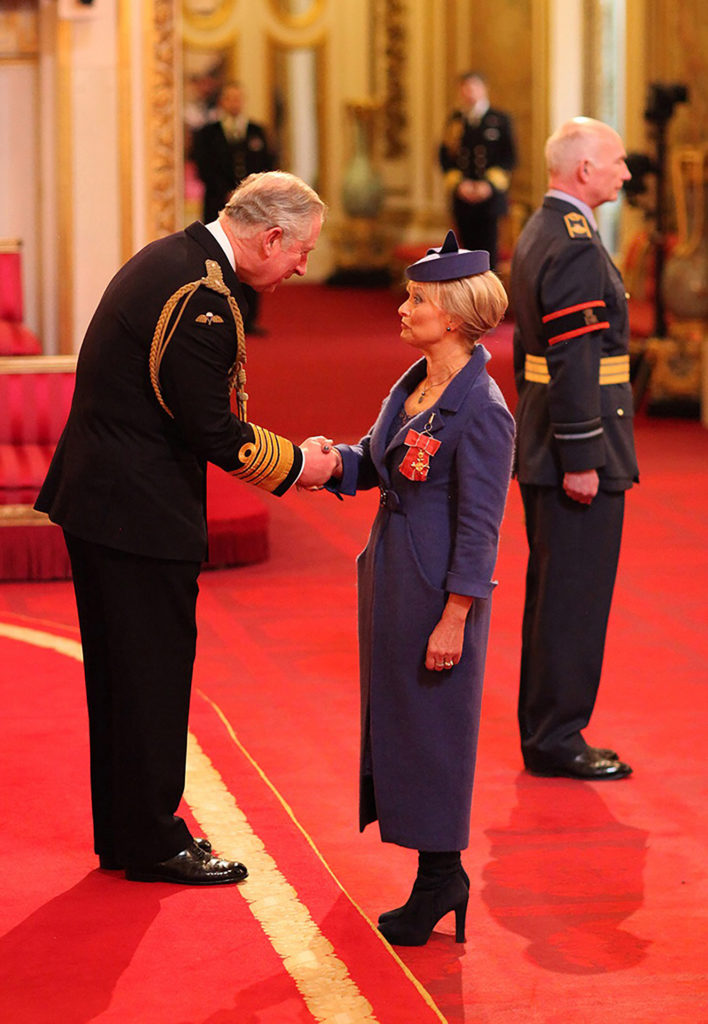 The significant events over the last few years have been moving both our shops to larger premises. Firstly we made the move  in London to our lovely shop in Haverstock Hill NW3 . We no sooner settled there and our lease was over in the Cottage after 21 years and we decided to look for more space. We now are at home next door to our production unit which works perfectly for us.
Starting with a blank canvas I designed the space to work for us the way we wanted . The front area is seating and display separated by the mirrored rooms that lead through to the dresses and changing rooms . It is an elegant calm space where clients can relax and take time to plan ,with the expert help of our stylists, how they want to look on the big day.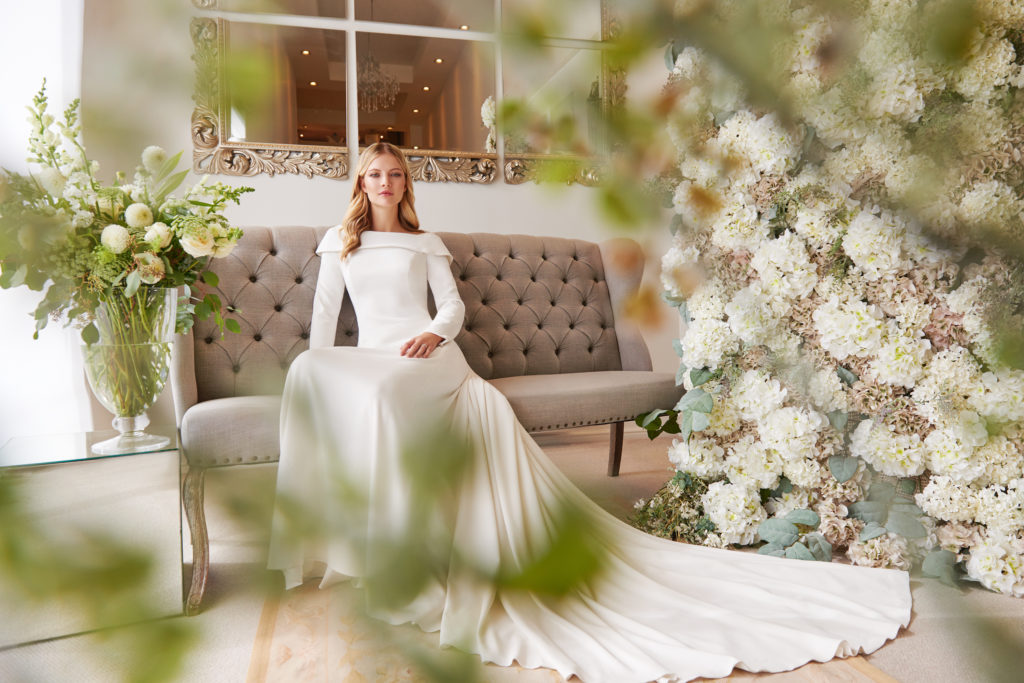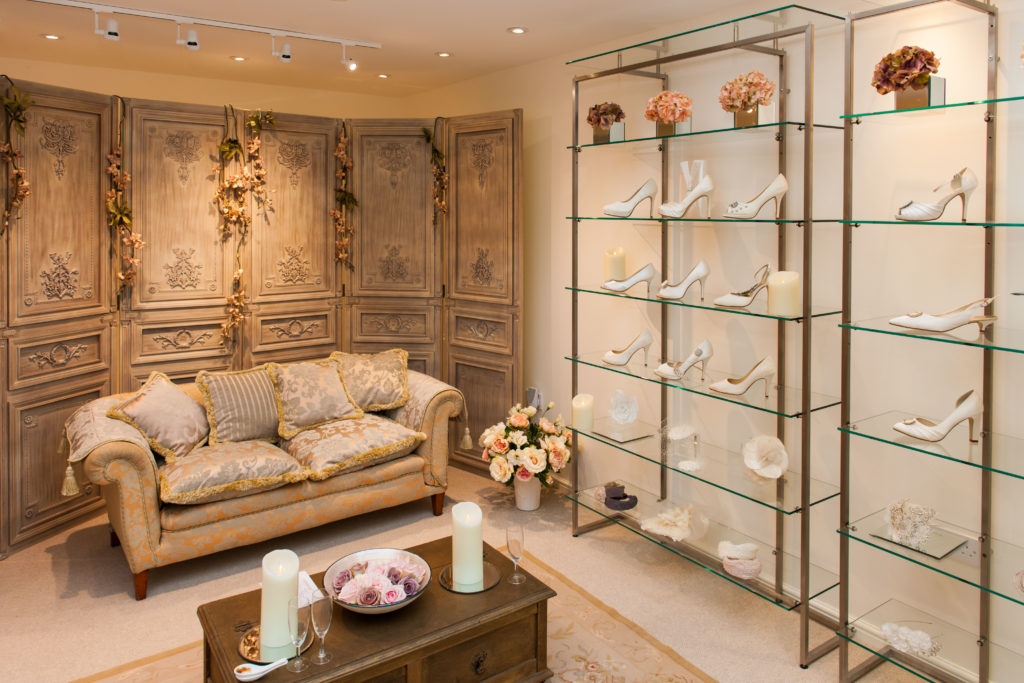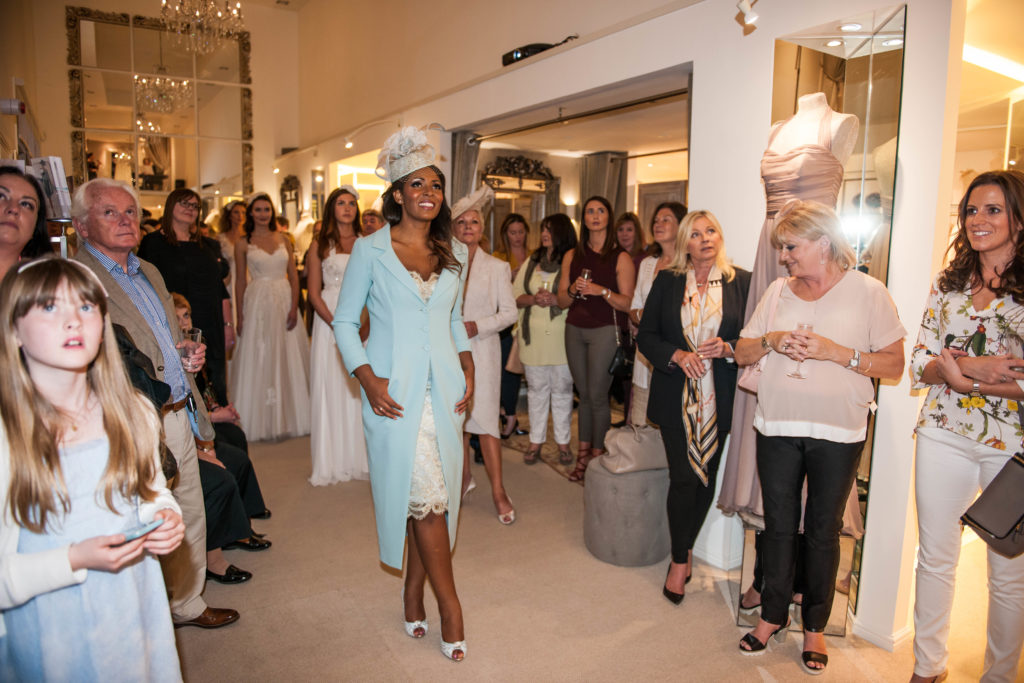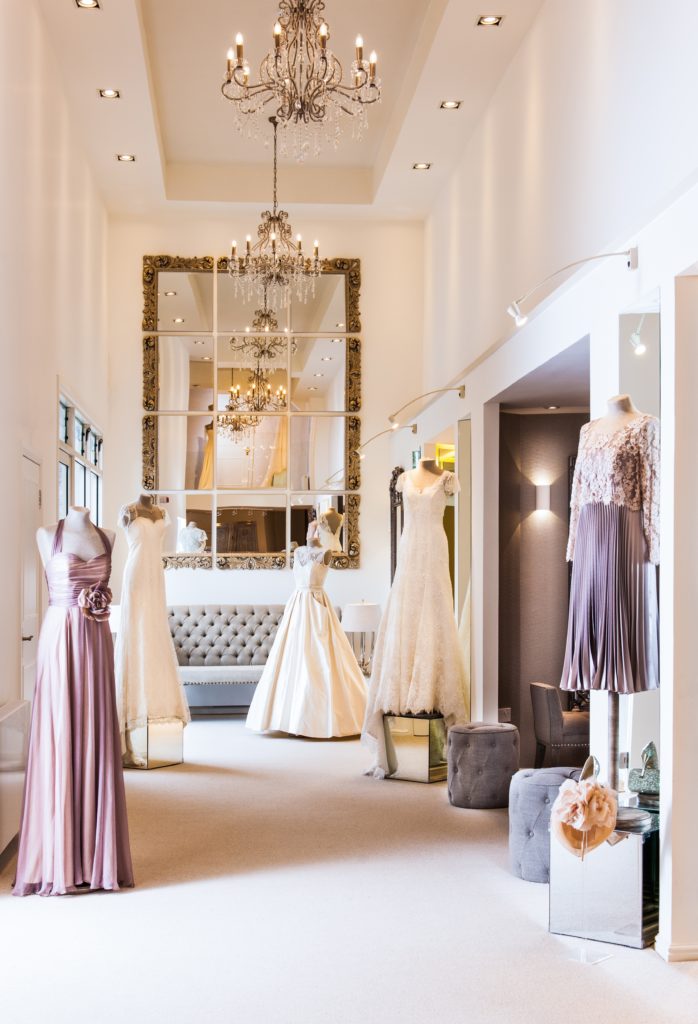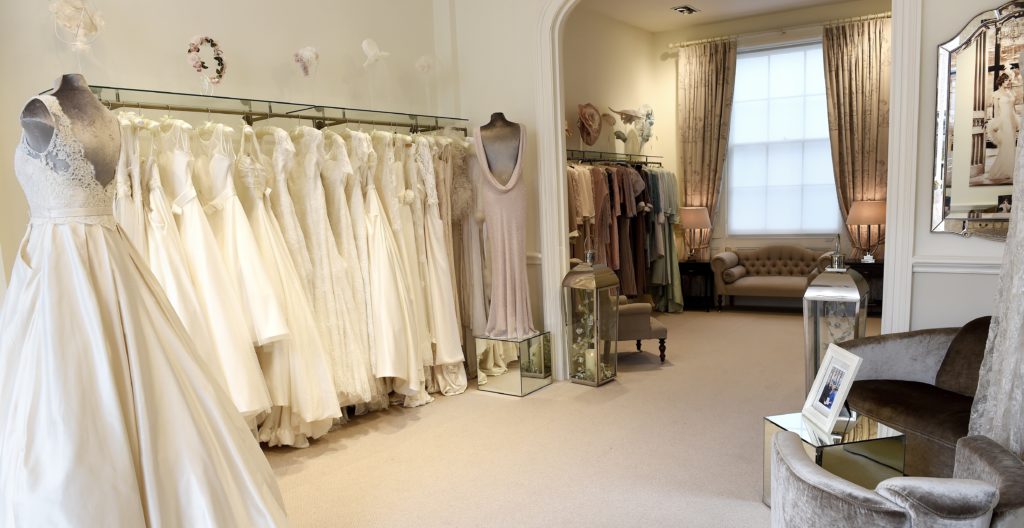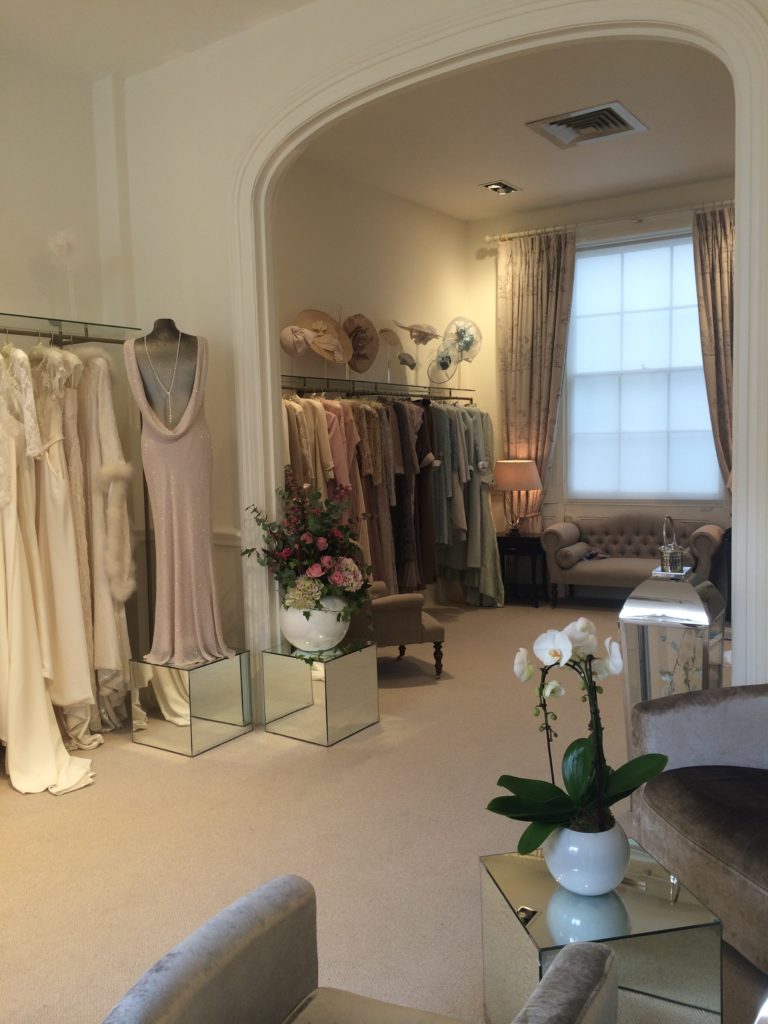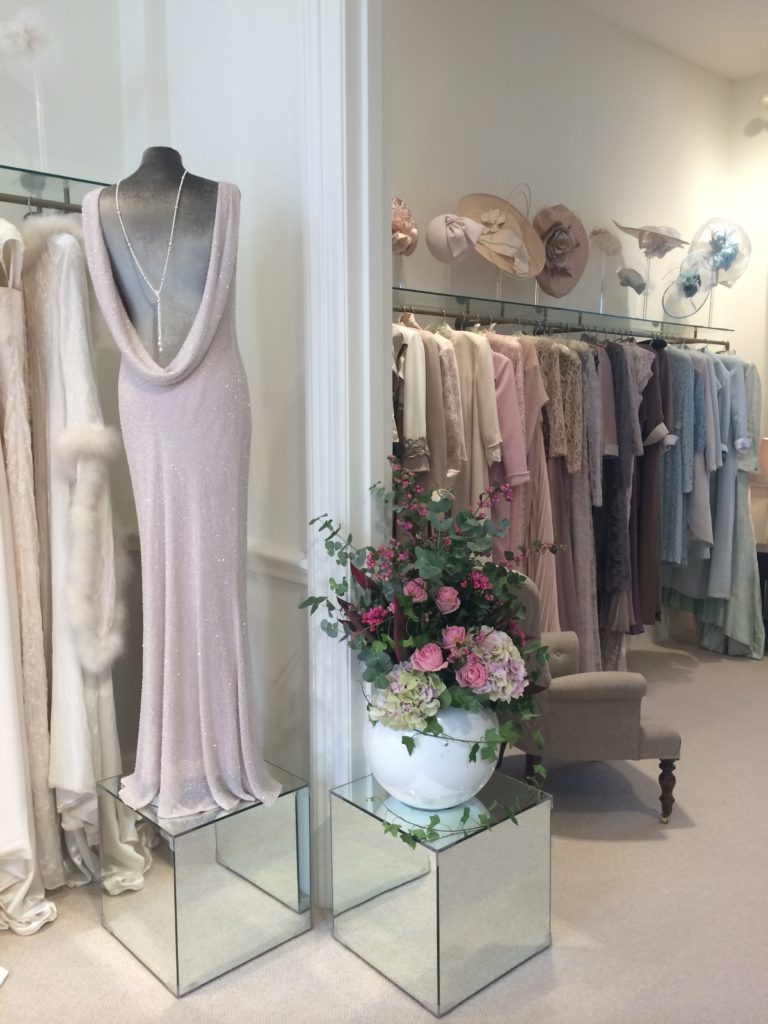 After 25 years we still like to think we are offering something that little bit different and special to our brides. In a day and age where we are overwhelmed and bombarded with images on social media it has become more and more difficult to make a decision. Brides are no longer limited by the offer in their local wedding shop the world is their oyster. Pinterest and Instagram confuse us with sheer volume of choice and while it maybe good to have choice it is also very confusing and time consuming. We have a diverse range of styles from which to choose and the added flexibility of being able to make changes to suit each individual bride. We also offer the complete couture service of designing an individually unique dress . Over 25 years we have learned a lot and have lots of valuable tips to impart on everything wedding related !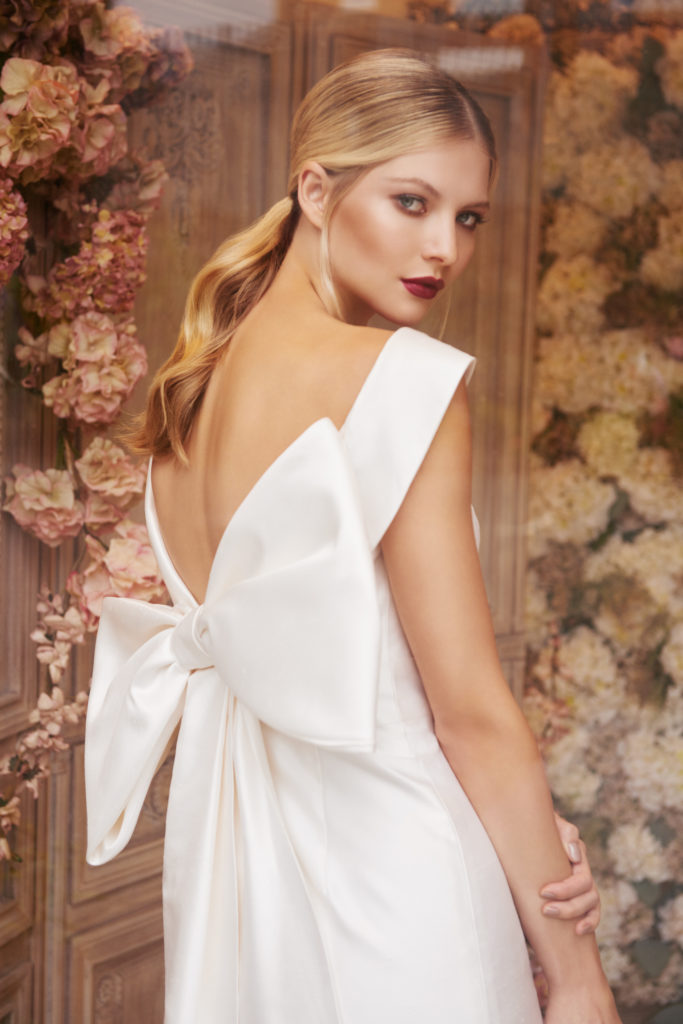 Over 25 years of dressing Mums for weddings we have developed an empathy for how are ladies are hoping to look. Most come in saying "I'm mother of the bride or groom but I don't want to look like a typical mother. I want to look different "  As our children tend to marry a bit later nowadays  (we never see 21 year old brides anymore ) as mums we tend to be in our fifties and sixties. However age doesn't define the way we dress. We dress younger and more casually than our own mothers would have done and this is how at Joyce Young we view our wedding collection. I prefer to use soft draping fabrics which are more flattering and styling that is more relaxed than too formal. It is a delicate line between looking like one of the main wedding party and a guest. Elegance never dates and therefore my signature look is simple styling in luxurious fabrics that you won't find in a retail shop. Add to this the experience of having your oufit individually made to measure for you incorporating any individual changes and knowing it will fit you perfectly, plus the individual attention form our skillful team, and you can see why many of our clients travel from all over the UK to our showrooms in London and Glasgow with many coming in from overseas.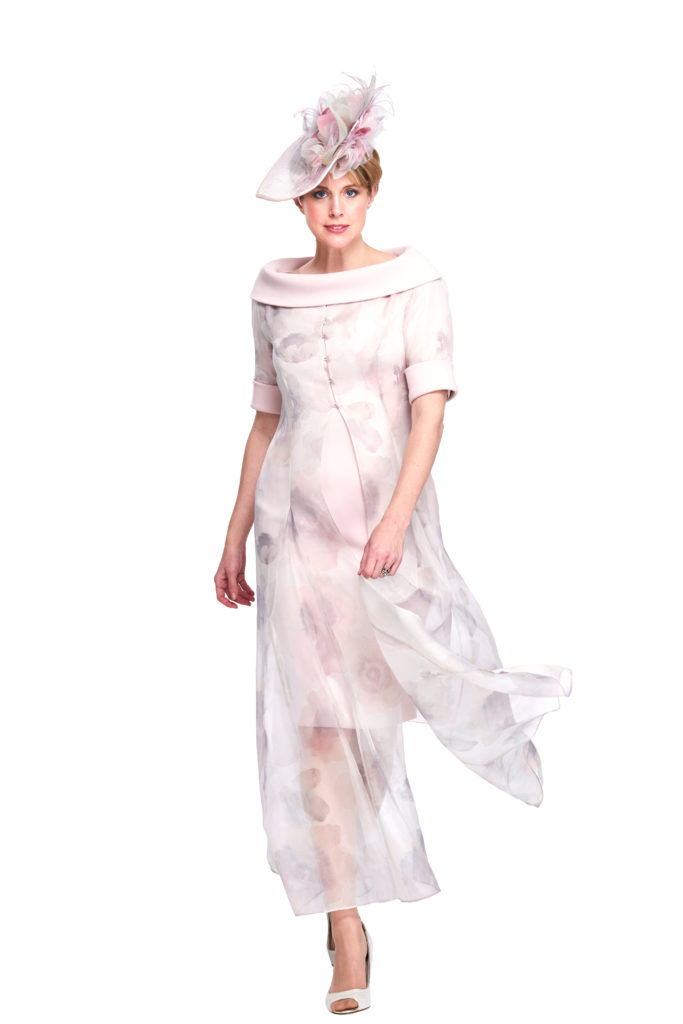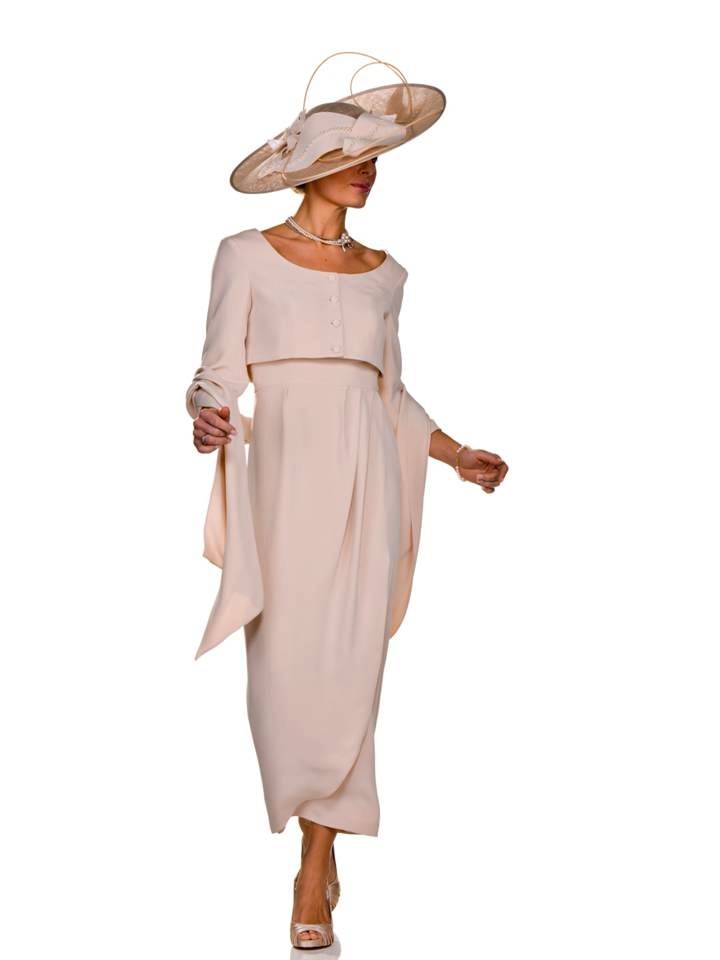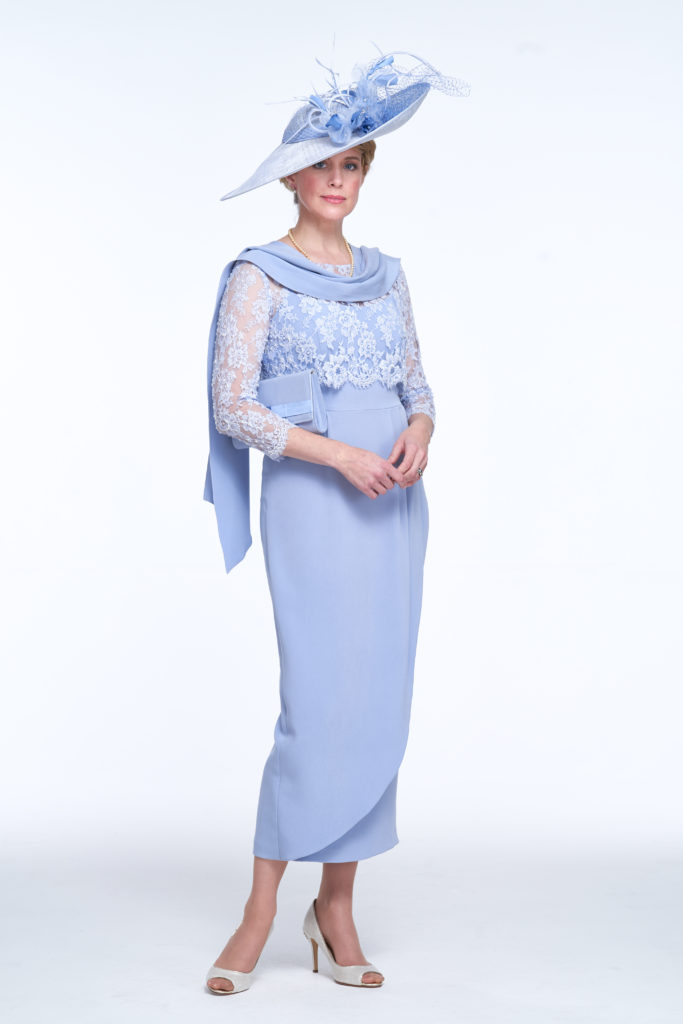 Alongside our bespoke special occasion and Mother of the bride and groom outfits , Couture Bridal and Dessy Bridesmaids we have now developed a collection of Casual Chic day dresses . These dresses come in a wide choice of colour and sizes 1 – 5 (10 – 24) and are designed to disguise tummies and cover tops of arms !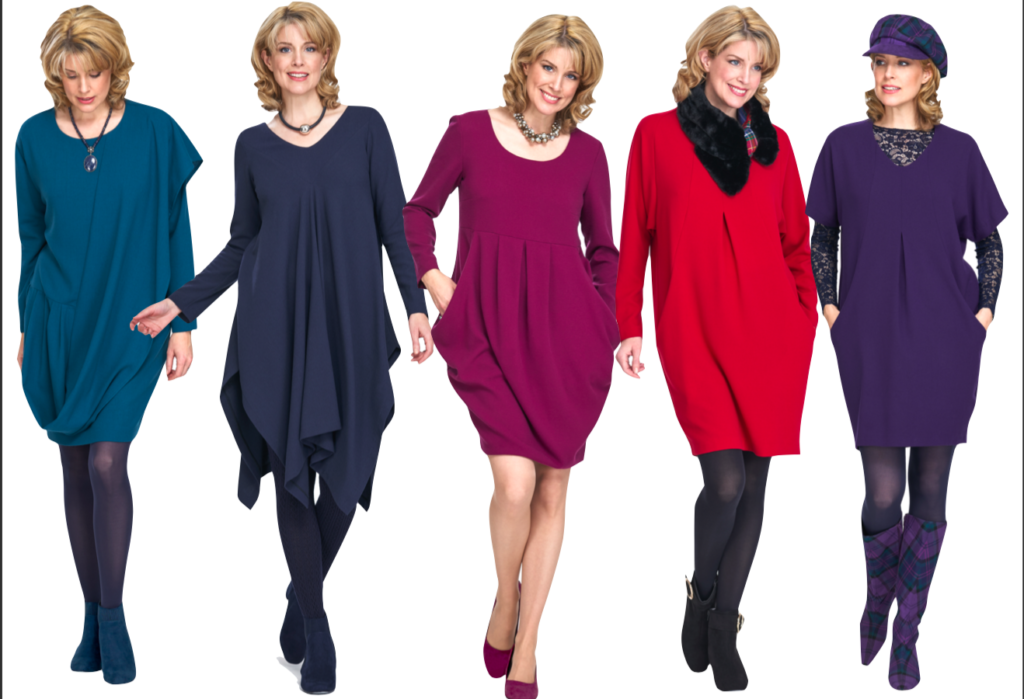 WHAT'S NEXT  ??????
We are in the process of developing a made- to- order collection for mothers of the bride and groom as opposed to made- to- measure. The outfits will be offered in sizes in different fabrics and colours to our Couture Collection. The samples should be ready to launch by Autumn 2019.
We are constantly developing our ideas and reacting to the changing needs and expectations of our potential clients. Social Media and the Internet have changed all of our shopping habits. What we bring to our clients who choose to come to us is the full personal experience of being looked after and cared for from the moment you come through our door , through all your fittings to when you leave with your coveted dress or outfit. Our staff aim to make it a beautiful and memorable experience .
Follow us on our social Media platforms for more regular updates:
Facebook  – Joyce Young Designs Studio and Tartan Spirit
Instagram – Joyce Young Designs Studio, Special Occasion Wear  and Tartan Spirit 
Twitter – Joyce Young Designs Studio and Tartan Spirit
Pinterest – Joyce Young Collections